Did you hear about Trustly? We selected a few reputable Trustly casinos for you!
There is quite a choice when it comes to online payment solutions. After all, we live in a modern era and we want to do certain activities quickly and efficiently, whether they are an obligation or a form of entertainment.
One of online banking services available is Trustly, and it is certainly worth considering, especially if you're European. The company was founded in 2008 and keeps growing at a fast rate. In 2016, they opened their offices in London – UK, making their services available for English merchants too.
Based in Sweden, Trustly offer their services to players located in the following countries: UK, Sweden, Finland, Denmark, Germany, Austria, Norway, Poland, Spain and Netherlands. The network of banks associated with Trustly counts over than fifty banking establishments so far.
Formerly known as GluePay and then Instant Bank, this innovative payment method went through a recent rebranding process, but apart from the name nothing that was good about it was changed. The system allows users to make direct payments for goods and services from their online bank application or webpage. And this also applies to making deposits at online casino venues.
How Trustly casinos Work
You can make use of Trustly from your mobile or desktop device, it really makes no difference, and you don't have to proceed with any registrations, download any software, or leave the casino site for that matter.
In order to

make a deposit:

The first step would be to select Trustly as your desired online banking payment method.
In addition, you'll have to pick whichever bank you have an account at, under the condition that it is one of the Trustly supporting banks.
Continuing, you'll have to

access your

online banking profile and finalise the transaction from there as you would do for any other online payment.
After you've entered the amount and confirmed the deduction, you'll only have to wait a few minutes before you can receive confirmation that the money has been indeed transferred to the casinos cashier. No wonder Trustly is one of the preferred methods, being so simple and practical.
In the same way, there is no reason why you shouldn't use the Swedish product for cashing out. The steps you are required to follow are basically the same as when you're making a deposit, with the exception of having to go to the withdrawal page of the casino's site instead of one reserved for deposits.
Trustly Now Offers Support
When I wrote this review, I noticed that Trustly didnt offer support. Can you imagine sending a written letter asking for support? The good news is that the company thought about this "small inconvenient" and created a FAQ section, adding new contact methods.
You can also reach their staff from Monday to Friday from 9 to 17.00 CET by phone or by email:
English Line: +44 20 3917 4826.
Swedish Line: + 46 8 446 831 33.
Contact form: click here.
Phone support is provided in English and Swedish language, but you can visit their website and navigate the site in Dutch, English, Norwegian Spanish, Suomi, Swedish and Polish.
Trustly Pay N Play
Pay N Play is a new service offered by Trustly, that allows users to start playing their favourite games – including online casinos – with fast deposits and withdrawals via direct payments through a linked bank account with no need to register nor verify it. This service literally allows you to receive your earnings in less than 10 minutes, with no extra paper work. Due to the nature of this feature, UK casino players are excluded from playing at Pay N Play casinos, but the rest of European players that have a bank linked to Trustly should definitely try it out. So far, there are few Pay and Play online casinos, because it's a relatively new type of service but we truly believe that the new brands will start offering Pay N Play soon.
How does it work? Really simple:
A casino player chooses Trustly to make a deposit at his favourite online casino.
Trustly has his personal and financial information, that is associated to his bank account and then sends it to the casino operator.
The casino collects this data, that uses to fulfill the KYC information and opens a casino account in the background.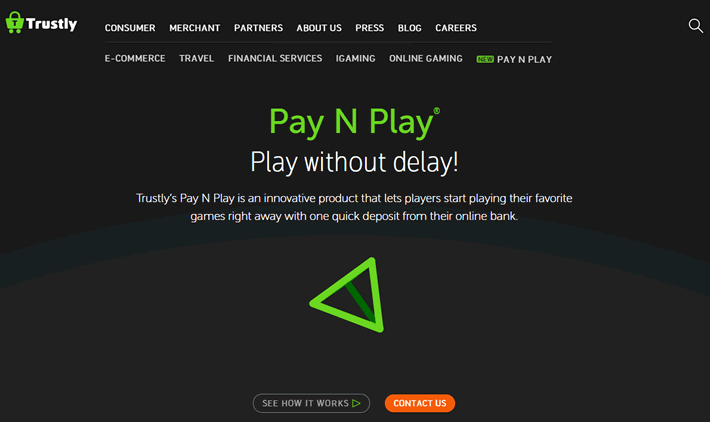 Advantages of Trustly Casinos
What's so great about Trustly right from the start is the familiar and convenient interface for interacting with users. The platform is easy to work with, and that attracts customers more than one might expect.
But if we're aiming at pointing out a major advantage related to the payment method in question, it would have to be the security it provides. Given the fact that customers practically use their own trusted banking profiles to carry out the transaction, without having to enter any sensitive information or attach themselves to other sites via registration processes, Trustly turns out to be completely risk-free.
What we have here is a direct bank e-payment where no disclosure of data is ever possible.
Disadvantages of Trustly Casinos
Among minor setbacks, one rather significant stands out – Trustly is only available at a certain number of countries, and the number is not exactly astronomical. People who do not reside in countries linked by banks that power Trustly simply won't be able to use it.
Fortunately, other countries might allow other payment methods similar to the model of Trustly, therefore foreign customers should do some more research in this direction if they find it suitable for them.
Not that big of a problem as location-related restriction, charging fees is still something that is often frowned upon. Depending on the bank and the casino you are demanding services from, some minor fees might be involved, but in most cases payees are tot subjected to any proceedings charges. Also keep in mind that particular banks and virtual casinos have designated minimum and maximum limits regarding making deposits and withdrawals, so it's good to be aware of the possibility at least.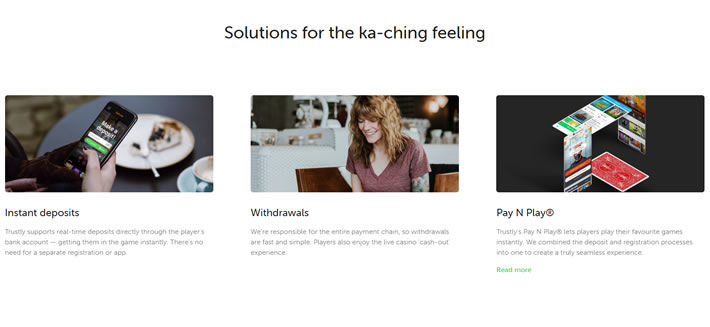 To Summarize
If you're a regular online casino attendant and you reside in Northern or Central Europe, make sure that your bank supports Trustly as a mediator between your active bank account and merchants across the web. You'll then be able to use it for effortless payments to your favourite casinos, without having to worry about safety or wasting precious time.
After reviewing many payment methods, I can absolutely confirm that Trustly is one of the favourites between casino players. The service is ultra fast and safe. Gambling at a Trustly casino offers the convenience of fast deposits and withdrawals, with no – or very low fees.
Pay'N Play is a relatively new service offered by Trustly, which allows you to join a casino, make a deposit, play and be able to withdraw in a matter of minutes. Everything is made so easy, that you can just relax and enjoy.
Sadly, this service is available only in the Scandinavia region, since the lack of registration doesn't do well with the UKGC regulation. If you are located there, you should definitely check if this method is available at your casino cashier.
Similar Services
If you don't have access to Trustly casinos, you should check if one of these brands are available at your casino cashier. You can find their review at this website too. Enjoy!
Instadebit / EasyEFT / Interac: available to Canadian players.
Citadel: available to players located in: Canada, Czech Republic, Denmark, France, Finland, Germany, Netherlands, Sweden and UK.
iDebit: available to Canada / New Zealand players.
entercash: available to most European players (Trustly's sister site).