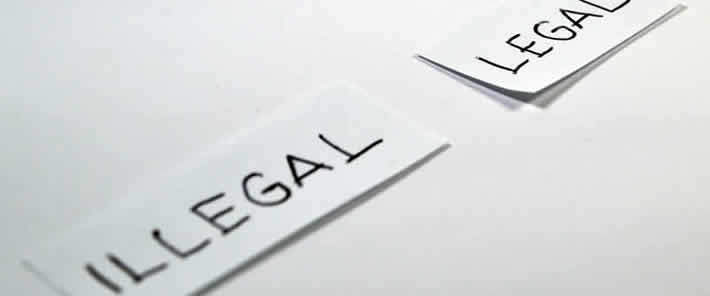 So many online casinos out there, so many choices to make. One of them is to choose a properly regulated casino to join, because an undetermined number of them operate under circumstances that are not transparent and therefore not safe. We live in an era where privacy and fair play are often taken for granted, and the fact makes us more cautious, which is only natural.
When selecting an online casino, except its game catalogue, speed of payouts, bonuses and ect.., we should always consider what licenses the casino holds – if any. Absence of licenses is a clear sign to avoid this particular casino. Turn around and walk away because the casino that doesn't bother to obtain proper licensing does not deserve your trust and respect. Now, the struggle doesn't end here. There is still danger of joining an unverified casino that only passes as regulated. You may find proof of multiple licenses at a casino website, but the question emerges – which of those licenses are trustworthy, legitimate and offer protection to players?
Licenses – from top to bottom
Out of all available licenses there is one you can fully trust and put your faith into. We're talking about the UK Gambling Commission license. A great number of casinos are interested in obtaining this license, and those who do have gone through a lot to get it. Operators have to meet a lot of requirements in order to become proud holders of the UK Committee license. Player's money and personal information is extremely well protected. As of 2014 every casino operator that wants to provide services for customers residing in the UK has to have a UK license.
Another respected law-respecting license is issued by the Isle of Man. They have shown true commitment when it comes to sustaining a properly regulated online gambling environment. License applicants are obligated to give proof of fairness of their games as well as proof of having enough funds to provide payout services to their customers at all times.
However, there are license issuers that aren't as committed and invested in their work as abovementioned. For example, the vastly distributed Curacao license doesn't mean much for players. It offers no stability for customers, and there were cases of casinos with Curacao licenses going rogue and vanishing after taking advantage of customers' deposits. This happens because the license gets issued to operators that pass initial investigation, have a fair casino and enough money to pay the fees, without deeper analysis of the online business. Curacao license is particularly popular between USA friendly online casinos, therefore US players should make an extra effort and pick only the most reputable and fastest paying USA casinos.
The same scenario applies to Costa Rica. They charge the fees of issuing a license but no further regulation is conducted and in case of a dispute with the casino don't count on the license to be of any help. If you find out about a license to be cheap and issued by the dozen, stay clear of those casinos because no rules will be respected there and you'll be putting your money and integrity at risk.
White Label Equals Convenience
There is a separate group of casinos that obtain their licenses by convenient white label methods. They call them white label solutions, and they consist of purchasing packages from software providers. These packages will have active licenses and the operators are set to open the virtual doors of their casinos. Despite some positive aspects of the idea, there are risks and the levels of controlling such a casino are not satisfactory from a player's point of view.
Summary
Casino has the obligation to respect its customers, their time and money, but it is your personal obligation to be responsible enough and always check the reputation of the casino you plan to visit. Who will protect you better than your own careful self? Learn which licenses are worthy and which are just plain formality, so you could use these circumstances to your advantage if ever needed. We can't stress enough how important it is to avoid casinos without any sign of licensing published on their website. But the greater danger lies in situations when the casino has all the familiar stamps, but they aren't as meaningful as they would like you to think. That's why we cannot stress enough how important it is to choose online casinos with fastest payouts – this is the best sign of security and fairness you can get.