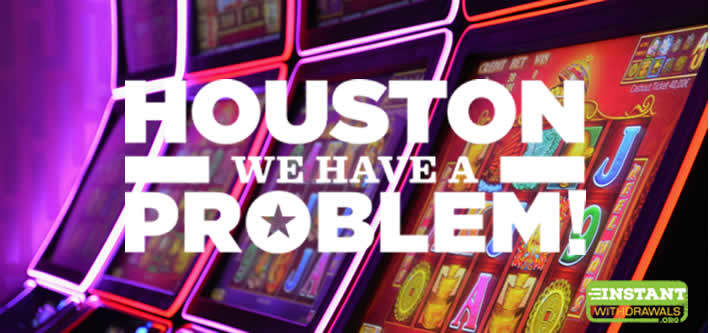 Playing at instant withdrawal online casinos is certainly fun and convenient. You've got all the games you like at your fingertips, and you don't even have to leave your seat to switch from one to another. The only thing we need to figure out now is how to get the free drinks and food buffets.
There's one major drawback to gambling online though. It's an inherent problem with the Internet itself. Between software and computers, mobile devices and network connections, there are seemingly infinite ways that something can go wrong and cause a problem with how things are supposed to work.
When something goes wrong with an online casino, it's especially frustrating — and even frightening. Sometimes a game just doesn't work. Sometimes you can't connect to the site. And then, probably the worst scenario, you're in the middle of a game when everything stops and you can't get back online or into the site. What could be worse than having your money floating out there in cyberspace when suddenly you can't connect to it, and you don't know what's going on?
Here are a few tips that can help you to sort out some of the most common problems you might run into when playing at online casinos.
Problem: A Particular Game Isn't Working
If you can connect to your favourite casino and play some games while others don't seem to work, the problem most likely has something to do with you. In most cases, the problem will lie with your web browser.
Here are some things you can try:
Reload The Web Page

. The first thing you should try is to simply reload the page. Sometimes something goes wrong with the communications between your computer and the casino website. If that's the case, reloading the page will fix the problem immediately.
Try A Different Browser. Most current online casino games are designed in HTML5. HTML5 is supposed to be a standard that works the same in every web browser. That's not quite the reality, though. There are slight differences in how some browsers interpret things. You may find that some games won't work with one browser or another, especially if you use one of the less popular browsers.
Clear Browser Cache. If reloading the page and changing browsers doesn't work, you should try clearing your browser's cache. If something has gone wrong and there is corrupt data in your browser cache, it can make web pages and sites behave in strange ways, or not load at all. If you don't know how, this guide will show you how to clear the cache for all major browsers. It just takes a moment and can fix a lot of problems.
Reboot Your Computer. As a last resort, if none of the above work for you, try rebooting your computer. There could be corrupt data in memory, or something may have gone wrong with your network (Internet) connection. Rebooting will start everything fresh and get rid of any errors. You shouldn't just "restart" your computer, though. Shut it down and let the power go off, then wait 10 or 15 seconds and turn it back on. Turning off the power will guarantee that your hard disks and RAM don't carry any corrupt information from the old session into the new one.
Problem: Games Are Freezing Or Locking
Sometimes games seem to just start freezing up or behaving strangely. Slots might not respond when you hit the spin button, or they start spinning and then don't stop. Live dealer games might suddenly drop you from the table, or the video feed seems to stop and go.
This type of problem is most often caused by a spotty internet connection. It usually means the game running on your device is losing its connection with the casino's server. Since the server provides the results of each game and deals with payouts and losses, when communication is lost, the game doesn't know what to do.
This problem usually occurs when playing casino on mobile devices that are connecting to the Internet through 3G or 4G connections. Unfortunately, there really isn't much you can do about this type of poor performance. If possible, you can try moving to an area with a stronger signal, or finding a Wi-Fi hotspot you can connect to.
If you can't do either, your best course of action is going to be to just wait until you reach an area where one of those options is possible. Continuing to play casino games on an unstable connection is not the kind of gambling you want to do.
Problem: You Can't Connect To The Online Casino
When you can't connect to the casino website, the problem could be with you or with them. The first thing you'll need to do is determine which one of you has the problem.
Try To Connect To Other Sites. If you can't connect to the casino, but you can connect to other websites, the answer is fairly simple — the casino site is down for some reason. In this case, there isn't much more you can do than wait it out. If you've written down their support email or telephone number (which you should) you can also try to get in touch with them and ask what's going on.
If you can't connect to any sites at all, the problem is on your end of things. Proceed to step two.
Check Your Network Settings. Exactly what settings you will need to check depend on what type of device you are using. The basic idea, though, is that you need to make sure that airplane mode is off on any mobile devices and that Wi-Fi is turned on. If Wi-Fi is on, or 3G/4G on mobile devices, check to be sure you are actually connected. If you're connected to a Wi-Fi network, the settings should show the name of the network. If you're connected to 3G or 4G, there should be an icon that confirms this on the status bar of your device.
If you are not connected to any network, obviously, you'll have to get connected for anything to work. In most cases you'll just need to go to Wi-Fi settings to get a list of available networks and then select one to connect to, We'll assume you know which one to connect to based on where you are.
If you are unable to successfully connect to any networks, especially one that you regularly use — like your home Wi-Fi — you should first try turning off the Wi-Fi on your device and then turning it on again. If you still can't connect, try resetting your device.
If you still can't connect to your network, or you've connected but still can't reach any websites, move on to step three.
Check Your Cable Modem Or Router. The Wi-Fi on your computer or mobile device is what connects you to your home network, but it is your cable modem or router (or both) that connects your home network out to the Internet. If you are connected to your network but you still can't access any sites, the problem is most likely with your cable modem or router.
In 99% of cases, there is nothing you can do with either of these devices other than resetting them to see if the problem goes away. Before turning anything off, take note of the lights on the device to see if anything that should be lit is not. Most have a light that says "Internet" or "Cable" or something similar to let you know that it is connected to the outside network. If that light is off, that is your problem.
Most of these devices don't have a power switch, so you'll need to unplug them to reset them. When doing so, you should unplug the device and leave the power off for 10 or 15 seconds. This gives enough time for all of the electricity in the device to dissipate so you can be sure that all memory is cleared. When you plug your device back in, it can take anywhere from a few seconds to a few minutes to boot up and be ready for use. In general, when your computer or phone/tablet can connect to the Wi-Fi again, your modem/router has finished starting up.
At this point, there isn't really anything else you can do. If resetting your modem or router fixed the problem, you will be able to connect to websites again. If not, the problem is with your internet service provider (ISP). You'll need to get in touch with them and tell them you've got a problem they will need to solve for you.
Problem: Casino Software Or App Is Not Working
The games in most online casinos can be played right in your web browser, but many casinos also have downloadable software you can install on your computer, or apps you can install on your mobile device. In some cases, you may need to download the casino's software to access games that aren't available to play through the web browser.
It can be especially frustrating if you can't get the software to install, or you had it installed but it somehow stopped working. If you're having trouble with the casino's software, here are a few things you can try to get rolling again.
Verify Your Operating System And The Program You Are Downloading. In most cases, the casino website will detect which operating system you are using and offer you the installation file(s) it thinks you need. It doesn't always work correctly, however. If you can't get the software to install, first read the web page carefully and make sure you are getting the correct software, be it for Windows, Mac, or Linux.
If you're sure the software the site is offering you is for your operating system, read the fine print. Look for the system requirements. They should be listed somewhere on the site. If you're running an older version of Windows or MacOS, the software may require a newer version to function properly. You should also double check that your computer meets the minimum requirements for RAM, CPU, etc. These types of things can be especially problematic on mobile devices.
Close The Program And Reload. If you were in the middle of using the software and it was working but suddenly stopped, it could just be that something got corrupted in your device's memory. On a computer, you can just close the program. On a mobile device, you should be sure to go to the list of open applications (or screens) and swipe the screen away so the program actually closes. If you just hit the home button, the program will remain open in the background.
Once you've closed the program, go ahead and reload it to see if everything behaves the way it should. If you're still having trouble, move on to step three.
Restart Your Computer Or Device. If restarting the program doesn't work, it could mean that something has gone haywire in your device's memory. Try restarting your device and then load the casino's software up again. In most cases, this will be enough to get everything working correctly again.
Remove And Reinstall The Software. If restarting your device doesn't get previously functional software running again, the program or its data files have most likely become corrupted somehow.
When this happens, you'll need to uninstall the software and start over. On a phone or mobile device, you should be able to just "long tap" on the software icon to bring up an option to uninstall it. On a computer, you should look for an uninstall program grouped with the casino software. If you just move the software icon to the trash, all you're doing is deleting the icon, not the software.
Once you've deleted the software, download it again (don't use any saved copy you might have on your computer or device) and install it again. In all but the rarest of cases, everything should be up and running correctly now.
When All Else Fails, Contact Support
One thing you should never forget is that every online casino has support staff available to help you (If they don't, you should find another casino). It's always worth trying a few things on your own so you don't have to wait for someone else's response, but don't be afraid to contact support with any problem or question. That's what they're there for.
It's very likely that if you're having a problem with the functionality of the casino or a game they offer, the support staff will ask you to do several things that seem like a waste of time. You should, however, follow their instructions carefully — even if you've already tried what they are telling you to do. They have most probably seen the problem you are having plenty of times before. The actions they ask you to take will give them more information about what exactly is happening in your particular case and allow them to help you as quickly as possible.
What about Trying Alternative Casino Sites?
We tested and reviewed hundreds of online casinos to bring the best brands which offer friendly terms and the fastest payouts. Feel free to check our casinos by country pages and review our recommendations of:
There are, of course, other problems you may run into, but the four we've listed above are some of the most common. Should you find yourself in any of these situations, we hope that our tips will help you get back to the action quickly.
Cheers and good luck!