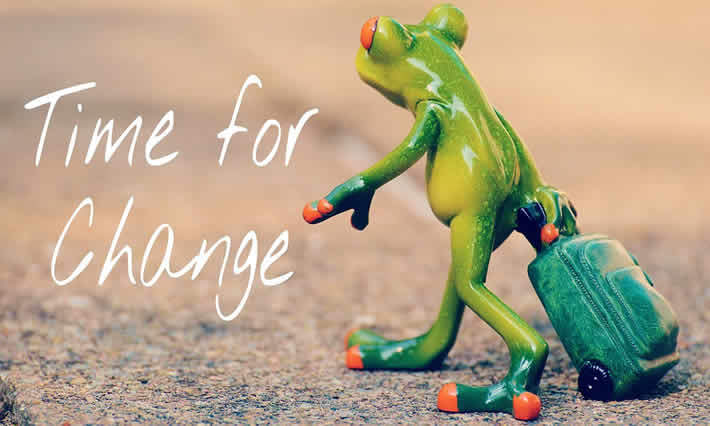 Playing at your favourite online casino is always fun. You've got your favourite games. You can play whenever you want. You can even sit down with your favourite drink or snack — or both — and just completely relax in a way that's not possible in a brick and mortar casino.
Sometimes though, that comfort you get from playing at home on your laptop while you sit in your pajamas can lead to a bit of a routine — or maybe you'd even call it a rut. Before you know it, you're doing things more out of habit than out of real enjoyment. You grab your drink. You get comfortable in your favourite spot, and you load up your favourite (or should that be usual?) game. After a few minutes, you're probably paying more attention to the television than you are to your game as you click away from pure muscle memory.
So what can you do to break away from what has become a boring routine and get back into the fun that attracted you to this kind of gaming in the first place? With a little imagination and a bit of willingness to explore, there are plenty of things you can do to bring back the exhilaration you once felt when you spun the reels on your favourite slot or placed your bet at your preferred table game. Following are four suggestions to help you break the routine and bring some new excitement to your gaming experience.
Try A Different Variation Of Your Favourite Game
One advantage online casinos have over their brick and mortar counterparts is that they can use technology to construct games that would be difficult or even impossible to create on a real casino floor. Because of this, you'll find many different variations on traditional games in online casinos.
Table Games
Table games are often very limited at land-based casinos. They will stick to what works and brings in a consistent profit. It doesn't make sense for a land-based casino to pay dealers or croupiers to stand at a table that may attract some interest but doesn't perform as well as some of their other top games. They need to maximize the profit for every inch of the floor space they have available.
In a virtual casino online, there is no such problem. It doesn't matter to the online casino if one game is played more than another. Neither of them takes up any real space. They don't have to choose between one or the other. It doesn't cost them anything to keep some less popular games online. In fact, it's just the opposite. They can squeeze out more profits by keeping some of those less popular games there for the players who like them.
Especially if you like card games, it's worth exploring some of the variants you'll find as you browse through the menu of an online casino. You'll usually see quite a few blackjack and poker games with all kinds of twists on the original rules.
You're almost certainly going to see some games you've never played before as well. It's much easier — and much less stressful — to learn a new game online where you can move at your own pace and even open another browser window to help you learn and understand the rules. Why not get in there and try some Pai Gow or Baccarat?
One of the best experiences you can get as a table games fan is to visit an online casino offering live dealer. If you are into sports betting, you can always check our dedicated section with the best sportsbooks offering fast payouts.
Video Slots
It is, of course, no secret that there is a huge selection of video slot machines available online. At most Internet casinos you'll find at least several hundred slots. Some even offer more than a thousand. That's a whole lot of options for someone looking for something new to do.
The problem with the slots in an online casino is that you don't get much more information than the name of the slot from the icon that pops up in the casino menu. That's one place where the land-based casinos win. You can walk around in a land-based casino and see what the slots are all about just by looking at them. Browsing through them at an online casino is going to take a little bit more effort. You'll need to click and wait for the slot to load to see what it has to offer. It can take some time to find one you like.
Where online casinos really pull ahead in the race, though, is the variety they offer in their selection of slot machines. Again, if we compare the two, land-based casinos have to get the most out of their floor space, so they ultimately limit their selection. Online casinos can put up as many slots as they like with no restrictions.
It's that vast selection of online slots that most players miss out on. They tend to get caught up in a few specific slots that serve as their go-to games rather than taking a little while to go through the menu and see what else is out there. There are all kinds of features and combinations of features that affect how a slot plays and pays. And best of all, with all the game developers out there, there are usually several new slots available every week.
By stepping outside of your regular games and experimenting, you will undoubtedly find new features that you like. Then it becomes possible to find more slots that incorporate that feature, which will, in turn, lead you to more new discoveries. When it comes to slots, think about the different factors that can be mixed and matched to make things more interesting such as:
Slot theme – Egyptian, animals, lucky charms, movie titles, famous characters, etc.
Pay schemes – Pay lines, cluster pays, 243 ways, win both ways, etc.
Volatility – Small consistent payouts or large wins that don't come so often
Graphics – Flat and simple or complex 3D and animations
Bonus features – Number of features, interactivity, possible payout, hard or easy to trigger, etc.
Many casinos will let you search through their slot machine offerings based on features or game developers. If your favourite casino has a feature search function, that makes it easy to find what you're looking for. If not, all slots will show the name of the game designer as the slot loads. When you find a slot with features you like, take note of who made it. Then, if you search for slots made by the same company, you'll often find others that share some or all of the same features that you're after.
Try A New Online Casino
If you've been playing at the same casino for a long time, you tend to establish some pretty strong habits. You know the layout of the pages, you know where your games are, you know when the bonuses are coming, and you know you haven't tried anything new in a long time.
Many people tend to think that all online casinos are basically the same. This couldn't be farther from the truth. All online casinos are most definitely not created equally. There's more going on behind the scenes than most players realize.
Except for very few exceptions, Internet casinos do not create their own games. There are many casino game developers all over the world that make the games you see. Some developers release their games all over the world. Some have exclusive release deals with certain casino operators, and still, others only provide their games in specific geographical areas. All of this creates a lot of variety from one casino to another.
Since all casinos don't work with all game providers, it's definitely worth your time to explore new internet casinos every once in a while. You're bound to come across options and games that you never knew existed. Much in the same way that walking out of one land-based casino and into another down the street can renew your vigor, changing the view on your screen can refresh your level of enjoyment quite significantly.
Something else you'll get out of trying your luck at a new casino is the opportunity to take advantage of new player welcome bonuses. Who doesn't like a bit of free casino money, right?
There are pros and cons of playing at recently launched online casinos and I believe we covered most of them on a previous article posted at our website. You are welcome to read more about it!
Enter Tournaments Or Freerolls
Just about all casinos run tournaments and freeroll events on a regular basis. These can be a great way to get yourself into some new games at little or no cost.
Depending on the type of tournament, you may be able to get a lot more play time at your favourite game for much less money. If you like poker, for example, and your casino runs regular poker tournaments, you can usually get into games that will take anywhere from 30 minutes to several hours to complete for as little as $1.
Freerolls should be self-explanatory. The casino will let you play for a limited time, or in some kind of tournament, for free. You can't get any better value than that. The chance to win money for nothing always comes out to a positive expectation and should be taken advantage of.
Try Your Luck At A Gamified Casino
Gamified casinos add something extra to the online gambling experience. In a gamified casino, the casino environment itself becomes part of the game. This new breed of online casino will incorporate things like levels that players can achieve or goals they must reach in order to unlock extra rewards.
You most likely won't see the word "gamified" advertised on the front of any casino sites, but look for mentions of things like "weekly goals", "unlock special prizes", or "progress through levels". This kind of language is a good indicator that the casino in question offers a lot more than just a simple VIP system. Take a minute to look a little deeper and see what they offer.
When the act of playing becomes part of a higher level game, you get a whole new level of excitement too. It should go without saying that those extra rewards for meeting those goals don't hurt either.
If there's a common thread to these suggestions, it would be that you should be open to exploring. Explore more of the casino(s) where you already have an account, and definitely don't be afraid to expand on that and explore new online casinos. It won't cost you anything but a bit of time to look around. Before you know it, you'll have a new spring in your step, and with a little luck, a nice bump in your bankroll.
Cheers and good luck!