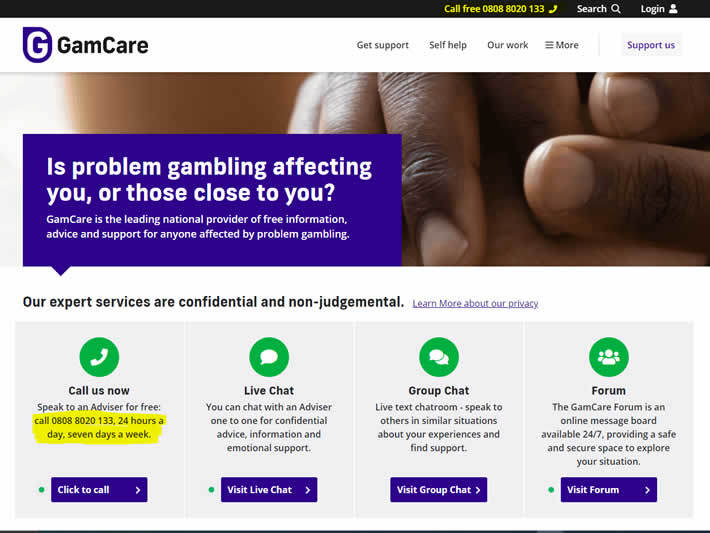 The national helpline to assist those who have suffered or are suffering from gambling-related harm, provided by GamCare and GambleAware, will now be available 24 hours a day. Beginning on the first of October, consumers will be able to reach the National Gambling Helpline on Freephone at 0808 8020 133 or through live webchat any time of the day or night.
The goal of the helpline is to give information, advice, and support to those who are experiencing issues themselves or those who have a loved one they believe to be at risk. The organizations report that the line received more than 30,000 calls during 2018 and 2019. Because of this, they believe that extending the hours of the service is the logical next step.
Better Service At High Risk Times
The United Kingdom Gambling Commission (UKGC) claims that there are about 340,000 people with a gambling problem in the country with an additional two million who at risk of developing a gambling problem in the future.
With the previous hours that the helpline was available, the Commission points out that players with problems were left isolated at their most vulnerable times. With most gambling activity taking place at night, it only makes sense that the helpline should be available during nighttime hours as well, when people experiencing issues are most likely to reach out for help. To remedy that situation, the helpline will be available 24 hours a day, 7 days a week, all year long.
Executive Director of the Gambling Commission, Tim Miller, said, "The pilot to extend the hours of the National Gambling Helpline is a very welcome step. GamCare's specialist advisers are now there if people need support at any hour of the day. This change arose out of the input of people with lived experience into research and demonstrates why that continued input is vital."
A Network Of Treatment Services
GamCare advisors are available to provide support to anyone who needs it through several different channels such as online chat and over the phone. They are also able to connect clients with local treatment services if the client asks for more substantial help.
The CEO of GamCare, Anna Hemmings, was happy to make the announcement about the helplines new round-the-clock hours, "We are delighted to be able to extend the hours of operation of the National Gambling Helpline to further support those affected by gambling-related harm. With the 24-hour nature of gambling, people sometimes feel at their most isolated overnight, when other support services are closed. They will now be able to reach our highly trained Advisers 24 hours a day, who can offer immediate support, advice, and referral to our network of treatment services nationally."
GambleAware has also joined forces with Parent Zone to educate families about various gaming-related issues, particularly those that affect the young population the most.
Speaking about the improvements in the availability of problem-gambling support services, CEO of GambleAware, Marc Etches, had this to say: "GambleAware is responsible for commissioning the National Gambling HelpLine, which is a core element of an emerging National Gambling Treatment Service. Our priority is to keep people safe and to ensure support services are easily accessible. As such, we are pleased to be funding an extension to the helpline's operating hours, and we will evaluate its performance over time."