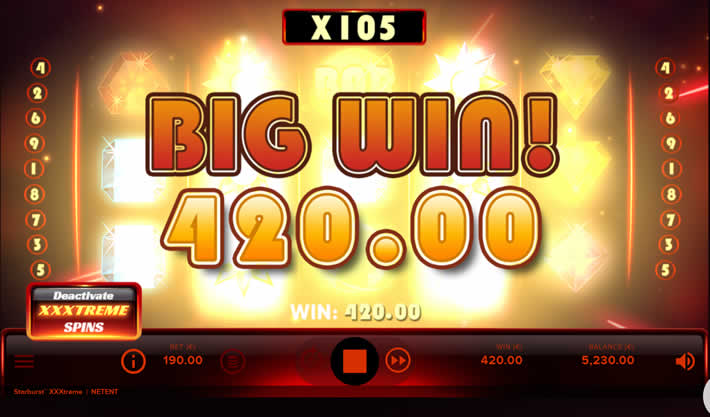 It has been nearly ten years since the Starburst slot from NetEnt was unleashed upon the world. Not even the game's own designers could have known what Starburst would become.
Today, NetEnt's Starburst is known as arguably the single most popular online video slot machine ever released. It is one of the most well-known and most played slot machines in all of online gambling. While most video slots—even those that make a big initial splash upon release—enjoy a period of high popularity and then slowly fade off into the background, Starburst has remained on the front page of every casino that carries NetEnt games for nearly a decade.
When Starburst was created, NetEnt's design team managed to put together the perfect combination of a modernized take on traditional slot machine symbols, relentless action that plays fast, and a bonus system that is at the same time both deceivingly simple and capable of generating massive payouts on any spin.
Being one of the first online slot machines designed fully in HTML5 is what has made the longevity of this online casino favourite possible. The original design still functions flawlessly on all kinds of devices from the beefiest desktops to the smallest portables.
Is It Possible To Make The Best Even Better?
In an attempt to do what many players might have thought impossible, NetEnt has decided to revisit its most successful video slot machine and make the world's most popular online casino game even better. As difficult as that feat might seem, it is very possible that the company has succeeded with its endeavour.
With the release of Starburst XXXtreme, NetEnt shows the world that not only do they have the imagination required to improve on one of the best slots ever made, but they also have enough self-restraint to keep from taking things too far and ruining what has become a globally cherished classic.
⭐ Starburst XXXtreme Slot: New Game Mechanics
Starburst XXXtreme comes with new and exciting game mechanics that do not alter but instead build on the bonus features of the original game. With a nearly identical design, players will instantly feel familiar with Starburst XXXtreme. Take a moment to check out the new XXXtreme play modes, however, and you'll be wondering why it took so long to integrate this simple yet game-changing feature.
If you've ever played Starburst, we don't need to tell you that that the theme on Starburst XXXtreme is executed flawlessly. The game is quite colourful and perfectly polished. Shining three-dimensional symbols float beautifully in front of a tranquil, animated background full of flickering stars. The game is, of course, fully responsive—meaning that it should look equally stunning on large and small screens alike.
🎫 Starburst XXXtreme Slot Gameplay Details
Just like the original, Starburst XXXtreme is a five-reel, three-row slot machine with nine fixed pay lines. There are seven regular symbols on the reels plus the game's special namesake Starburst wild symbol.
There are two low-value, two mid-value, and two high-value symbols. The lowest paying symbol will pay three times your bet for five of a kind. The highest paying symbol will reward you with 50 times your overall wager for five of a kind.
Setting up your wager on Starburst XXXtreme is fast and easy. All you'll need to do is choose from one of 39 preset wager amounts and you'll be ready to spin. You can play for as little as £.10 per spin or take it all the way up to the maximum of £50 per spin.
NetEnt rates Starburst XXXtreme as a high volatility game, so be prepared for plenty of excitement. Play confidently knowing that you'll also be enjoying a very generous RTP (return to player) rate of 96.26%.
🃏 Starburst XXXtreme Slot Bonus Features
Like the original, there aren't many bonus features in Starburst XXXtreme. This slot is designed for straightforward, nonstop action—nothing more, nothing less. NetEnt has proven beyond a shadow of a doubt that a slot machine doesn't need to have 20 different features to be fun and exciting. The original Starburst slot has remained at the top of player popularity lists all over the world for a decade with one basic bonus feature and nothing more.
☑ Starburst Wild Symbols
All bonus payouts on Starbursts XXXtreme are based on the Starburst wild symbols.
When the star-shaped, multicoloured gem lands on any of reels two, three, or four, it will expand to cover the entire reel. Any winning combinations will be counted and a free respin will be awarded. During the free respin, the wild reel is held in place and all other reels spin. Any new winning combinations will then be counted and added to your winnings.
If a second (or third) Starburst wild symbol lands, it will also expand to cover the reel it lands on and an additional respin will be triggered. All wild reels will be held in place while the remaining reels spin.
In addition to creating wild reels, each time a wild symbol lands there is also a chance that it will be accompanied by a random win multiplier. Possible multiplier values are 2, 3, 5, 10, 25, 50, 100, or 150 times the regular win payout. If more than one multiplier is awarded on any spin, multiplier values will be added together and wins will be multiplied by the sum of those multipliers.
☑ Random Wilds
The random wild feature can trigger at any time on any spin. When this feature triggers, from one to three wild symbols will be placed on reels two, three, and/or four. Any wild symbols placed on the reels by this feature will also expand and generate respins exactly as described above.
🎰 Starburst XXXtreme Spins
The Starburst XXXtreme spins mode (as you have probably guessed) is the newly added gameplay mechanic that gives this new version of Starburst its name. This new play mode makes it possible to hit bigger and better payouts that go far beyond what the original Starburst slot offers.
XXXtreme spins are not exactly a bonus feature. That is, they are not triggered by any event in the game. XXXtreme spins is a game mode—actually two game modes—that you can choose to enable. When enabled, you are guaranteed to land one or two Starburst wild symbols on every spin.
How Spins Work
At the lower left of the reels, you will see a button that says "Activate XXXtreme Spins". When you click on that button you will be given two options to choose from. You can play for ten times the current bet amount with a guarantee that at least one Starburst wild symbol will land on reel two, three, or four on every spin. You can also choose to play for 95 times the current bet and in exchange, you will be guaranteed at least two Starburst wild symbols on reels two, three, or four on every spin.
At any time during the game, if you land wild symbols on reels two and three, you'll generally receive significant payouts since you'll have at least three of a kind on multiple pay lines. If you are lucky enough to get Starburst wild symbols on reels two, three, and four at the same time, you can expect quite large payouts as you'll have at least four of a kind and possibly several five of a kind on all nine pay lines. If a multiplier lands on top of that, the sky is the limit!
Starburst XXXtreme Video Teaser
Here you can check the Starburst XXXtreme slot teaser, available at the NetEnt Youtube channel: