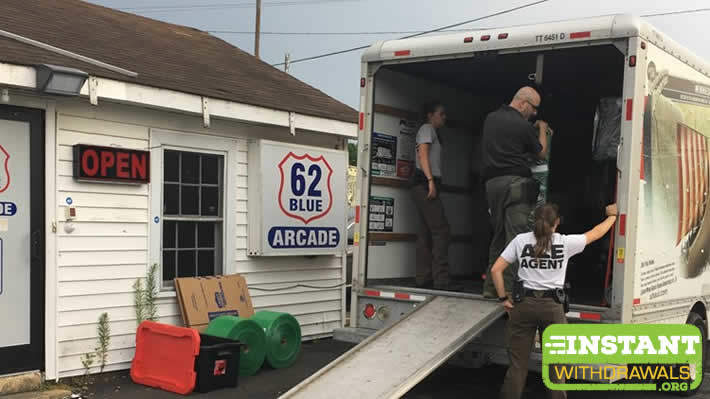 Authorities in North Carolina are expected to make arrests this week after seizing 25 gambling machines during a raid of an illegal gaming operation.
Deputies in Randolph County, as well as agents from the North Carolina State Bureau of Investigation (NCSBI), searched a small, seemingly inconspicuous building identified as "62 Blue Arcade" in photographs. Illegal video slot machines and fish game tables were found inside. Documents and an unknown sum of cash were also seized from the premises.
An NCSBI spokesperson said that charges are expected to be filed for gambling and felony operation of illegal gambling machines.
Both local law enforcement and city officials reportedly received numerous complaints from residents about the illegal gambling house. Many similar illegal casinos are known to operate 24 hours a day.
Sweepstakes type games and fish game tables have been found in the state with increasing frequency since 2017. Both are currently considered to be illegal within the borders of North Carolina. The NCSBI's website states that under state law it is illegal to possess or operate any slot machine or device where a user can receive money, credit, or anything of value from a game of chance. Video poker machines are also considered to fall within this category.
There is an ongoing debate in North Carolina over fish table games. Arcade owners believe the games should be legal, contending that they are not games of pure chance and require skill to win. Law enforcement, as you might imagine, does not agree.
There have been several raids of suspected illegal casinos in North Carolina in recent months resulting in the seizure of illegal gaming machines as well as some arrests. In March, several illegal video game parlors were searched in Bladen County. By the end of the operation, more than 300 gaming machines and about $10,000 had been confiscated. Back in November an Asheboro arcade, Lucky Day Skills Games & Fish Tables, which is also in Randolph County, was raided by authorities.
Legal gambling in North Carolina is extremely limited. The lottery is easily the most popular legal gambling outlet. The state also allows online lottery games, so residents can purchase the interstate Mega Millions and Powerball tickets online as well as the state's own Cash 5 and Lucky For Life games.
Commercial gambling venues are prohibited, but tribal casinos do operate on Native American reservation land within the state. A reservation sports betting and horse wagering proposal, Senate Bill 154, has also been approved by both the state Senate and House of Representatives.