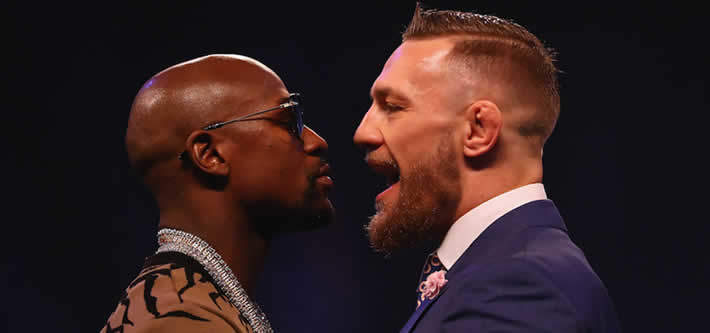 Next Saturday, August 26th – Conor McGregor will face Floyd Mayweather Jr. in what is called: "The Money Fight". It is said that the guys will make $100,000,000 each.
This is a Megafight, an event that a year ago, no one has imagined would really take place. The Biggest Boxing Event of the History. The match is promising and it is reported that the amount of bets placed online will break all records.
Truth is, that we are no boxing experts but decided to write about this because it's a huge event! Even if you don't like boxing you know this weekend is happening! Mayweather vs McGregor. It's finally happening after months of waiting and here are our 2 cents worth.
Some Background
Conor McGregor is the current UFC Lightweight Champion, while Mayweather Jr. arrives with more tittles than any nobility character of Game of Thrones… Mayweather retired with 49-0 record. He is the undefeated eleven time five division professional boxing world champion.
Earlier in 2017, he mentioned that he would only come back for this match. So here we are…
Of course, McGregor is the world Champion of Mixed Martial Arts, but this is a boxing event, Mayweather's home turf. Odds are against him, after all, he is a newcomer to boxing with no experience whatsoever. Yes, he is a professional fighter, but everything is different. Even the shape and size of the ring will make a huge difference in favor of Mayweather.
Mayweather vs McGregor Fight Explained
Most of you probably know what's all the fuss about, but I wouldn't mind some clarification. This great video from The Guardian sums it up nicely:
Predicted Strategy
Mayweather is well known for his defense. He hasn't been hit hard by any previous opponent – which includes some of the most talented boxers of this generation; Manny Pacquiao and others. So why would it happen now?
Most sport betting forums agree that we can expect him to repeat the same strategy used lately. This basically means winning in the longer term, by scorecards and unanimous decisions, as he did in the last 5 matches. Fighting at distance.
Mayweather bases his self confidence on the experience and knowledge of his sport. He says he simply knows it far better than McGregor.
The only way people believe that McGregor has a chance, is being aggressive in an effort to end it early, which is highly unlikely to happen. He has clear physical advantages against his opponent, who already acknowledged that fact. 29 years old against 40, is no joke!
McGregor declared that he is "young, confident and happy, working hard for it". Will that be enough? Not so sure.
As you can see, this is not only about mixed martial arts against boxing. There's much more to that!
Mayweather vs McGregor Odds
As expected, Mayweather opened as a -2250 favorite. The finest boxer of this generation against someone who never compited in a professional boxing match didn't sound right. With time, Mayweather became more confident of himself, leaving any training behind. McGregor kept focus, convincing some fans that it could actually happen… He is the underdog, but if you just think about it for a second… he could potentially win…
Here we show you the odds chart progression, last updated in 24/08/17: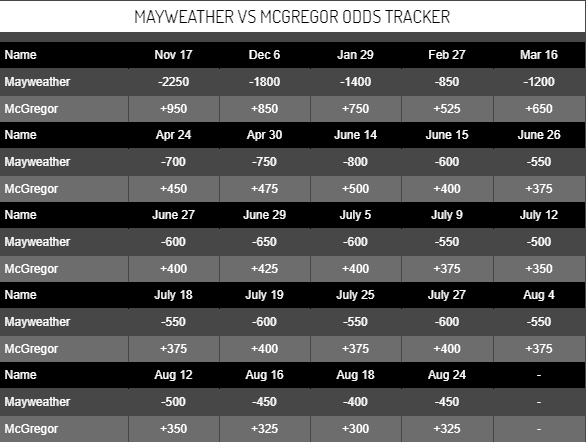 As you can see, McGregor odds don't represent his chances of winning. Let's just take a second and compare the odds of previous matches, such as Mayweather – Pacquiao. The current rates don't show his chances of beating Mayweather. The truth is that they have been distorted by public money placed on him. McGregor is now less than 3 to 1 underdog, which is a complete nonsense.
Let's leave aside the fact if you like Mayweather or not. If you ask people around, everybody will tell you that they prefer McGregor winning. He looks like a cool guy, full of confidence, some sort of hero. Mayweather is the bad guy, full of money, surrounded by good looking girls. Honestly, I don't like him either, but… lets be realistic.
One thing is what we wish for and another thing is reality. Mayweather has way more experience, technic and knowledge than McGregor. Just the fact that McGregor agreed to enter the boxing ring for the first time against one of the greatest fighters of all times, shows who he is.
On the other hand, he has nothing to lose. Which is not something to say about Mayweather. If he looses, for the first time, in his own game, that could put a huge stain on otherwise perfect carrier.
Special Betting Bonuses
The most notorious sport betting websites wouldn't miss the chance to entice newcomers with special bonuses and promotions. Mayweather and McGregor fans have multiple options to choose from reputable gambling sites.
I would like to list some of the best bonuses available for this match. All the places mentioned in this section are reputable and regulated, so you won't find any issues playing there.
I didn't get into the details of each promotion so I recommend you read their terms and conditions to make sure the offer gives you some edge.
Mayweather v McGregor Betting Bonuses
You can go straight forward to the operator's website and claim these bonuses from the promotion section.
Bet365: 35/1 for Mayweather to win for Majority decision. Floyd Mayweather to win at 1/6.

£200 Bonus.

PaddyPower: McGregor to Win at 40/1. McGregor Land Less than 50 Punches at 1/5.

£20 Free Bet.

Ladbrokes: 6/1 For Mayweather to Win in Rounds 1-3

£50 Free Bet.

BetFair: 20/1 Mayweather, 40/1 McGregor. Mayweather to win in 60 secs at 33/1.

£30 Free Bet.

Coral: Mayweather to Win at 25/1. Floyd Mayweather to win in Rounds 4-6 at 9/2

£20 Free Bet.

888 Sports: Fight to go the distance at 9/5.

£40 Free Bet.

William Hill: 

McGregor to be disqualified for a kick at 16/1

.

£30 Free Bet.

Sky Bet: McGregor to win in 35 Sec of round 1 at 150/1.

£20 Free Bet.
My Two Cents worth
McGregor is a charismatic pro MMA champion but chances are that won't be enough to win over Mayweather. The later comes with years of experience, multiple tittles and 5 consecutive victories by unanimous decision. Retired with a flawless 49-0 score,  odds are on his side and he knows it. Public expect a long distance fight with few sparks at the early beginning.
Current rates are not representative of McGregor real chances of winning. Don't be fooled: they were distorted by public money. Everybody kind of like this guy, I understand why… but he doesn't have it easy on a first ever match against an undefeated champion. He is younger, it's true, but his lack of boxing technic won't be left unnoticed.
Let's see what next Saturday brings. Will the young newcomer surprise us all or will the boxing veteran teach him how it's done? Mayweather is such an arrogant guy, but we can't deny it: he is the finest boxer of his generation.
Many people bet against him in the past, challenging all odds, wishing he would lose at some point. It never happened… Maybe next Saturday will be different. Will see…