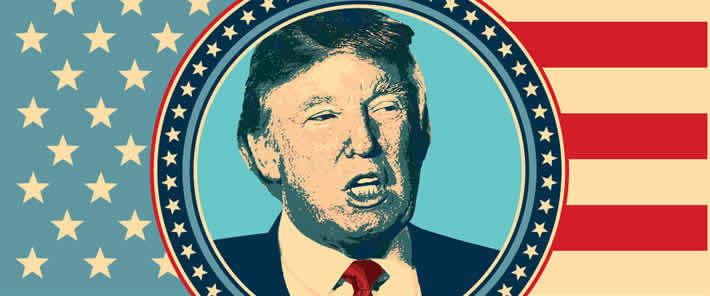 While Donald Trump was going full steam ahead fighting to become the next US president, Trump Taj Mahal in Atlantic City, which he opened more than 20 years ago, closed for the final time. Having purchased it unfinished in 1988, Mr. Trump completed the project using junk bonds, a decision which proved to be fatal as recession later hit the gaming industry.
Trump Casino Empire: Success For Some, Failure For The Others
It all started in the early 1980s, when Donald Trump was asked to manage the construction of a Holiday Inn Casino-Hotel. It opened in 1984 and two years later Trump bought out company's shares in the property and renamed it the Trump Plaza Hotel and Casino. The following year, he purchased Atlantic City hotel and casino which he originally opened as Trump's Castle Hotel Casino and later renamed the Trump Marina.
Trump Hotels and Casino Resorts was established in 1995 as a publicly traded company. THCR posted losses every year, while the resourceful Mr. Trump still earned handsomely. On top of generous salaries and bonuses, he was also paid for consulting his own company and got reimbursed for THCR using his personal jet and golf courses for VIPs.
At the same time, investors were losing millions. Investments made in 1995 would have retained only 10% of their value by 2000. In 2004 the company filed for bankruptcy and soon after Trump Hotels & Casino Resorts changed its name to Trump Entertainment Resorts.
Following in the footsteps of its predecessor, TER continued to generate losses and has filed for bankruptcy in 2009. Two years later, TER sold the Trump Marina to Landry's Restaurants and in 2013 the Trump Plaza to the Meruelo Group.
In 2014, Trump filed a lawsuit against Trump Entertainment Resorts, demanding removal of his name from the Taj Mahal and Plaza casinos. He claimed breach of the licensing agreement and stated that the business "did not live up to his brand's superior reputation."
Having profited from his experience in the gaming industry, Mr. Trump found himself a new project with high profit potential. Only this time he'd run a country instead of a casino.
Casino Moguls Bet Together
The largest donor to Donald Trump's 2016 presidential campaign was the billionaire casino owner Sheldon Adelson. Curiously enough, regardless of Mr. Trump's questionable success within the industry, Sheldon Adelson claimed his business experience was the main reason he chose to support the Republican candidate.
"I felt strongly that someone with that level of CEO experience would be well-trained for the job of president", apparently stated Mr. Adelson. He went on to describe Trump as a "CEO success story" and a businessman who will risk his own money rather than the public's.
In recent years Adelson has passionately fought against internet based gambling. Perhaps expecting the support of an ex colleague in the land-based casinos industry, his contribution to the campaign was actually a good long-term investment? Whatever Mr. Adelson's motives, the question now is will Donald Trump in his new role focus on paying back favors to old friends or work in the best interest of the USA?
US Voters To Profit From Trump's Business Expertize
Trump often boasted of his Atlantic City success during the presidential campaign. He repeatedly used it to support his claim that he'd bring same business expertise to the Oval Office, "doing for America what he did for his companies". Seeing a once premier casino go bust and Atlantic City balancing on the edge of bankruptcy, it kind of makes you doubt you'd want to see that particular promise kept. As part of Taj Mahal bankruptcy deal, employees lost their healthcare, pensions and other benefits. Is that the kind of prowess the new president was referring to?
Donald Trump has made the promise to Make America Great Again and US voters have placed their bets accordingly. It remains to be seen if they will get to collect a healthy return on their investment. Or will this be a case of "house always wins", just on a grander scale?