Yes, you read that right! Over the course of the next two weeks, the gang at Bet365 is giving away £1,000,000 in prizes to their players. The best part of it is that you don't need to do anything more than you already do. Just log in and play your favourite games to earn chances to win your share of this absolutely massive £1 million prize pool.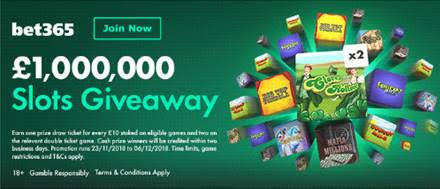 Earn Giveaway Drawing Entries Playing Bet 365's Games And Bingo
Play the fantastic selection of game titles or bingo available at Bet365 to earn tickets for four exciting prize drawings in the £1,000,000 Slots Giveaway! Simply stake £10 or more during the promotional period and you'll be in the drawing with chances to win cash prizes up to £5,000.
Sign Up at Bet365 & Get Started
* 18+. Terms & Conditions apply
Giveaway Terms
The promotion runs from 00:00 UK Time on 23rd November until 23:59 UK Time on 6th December 2018.
Qualifying rounds run from 00:00 UK Time on Friday until 23:59 UK Time on Sunday, and 00:00 UK Time on Monday until 23:59 UK Time on Thursday.You can earn one prize draw ticket for every £10 cash staked on eligible games. Two prize draw tickets will be awarded for every £10 cash staked on the relevant double ticket game for the qualifying period. You can stake £10 cash cumulatively across eligible games during a staked qualifying round. This does not apply to the qualifying period's double ticket game. For an entire list of eligible games please see Full Terms Three and Four.
There is no restriction on the number of prize draw tickets that you can earn; you can also win more than one prize per qualifying round.
Prize draw dates are 26th November, 30th November, 3rd December and 7th December 2018.
For more information about all offers please visit the bet365 website.
Don't Miss Your Chance For A Piece Of The £1,000,000
You have a very small window of opportunity to get in on this very big giveaway. Don't miss your chance! Get in early to earn the most possible chances to come out on top when the drawings take place!
Good luck!