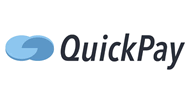 The Quickpay system is probably one you've never heard of, although you've probably also used it at least one online casino. The system itself is more of a processing system designed for the backend systems of operators than for the use of customers and players. The basic idea is that QuickPay gives casinos the ability to take all sorts of different payment methods that will ultimately make it easier for their players to withdraw and deposit from their accounts.
About QuickPay

Payment System

The company was actually launched quite a while back, in 2004. It is based in the country of Denmark. Today they work with approximately 30,000 customers and process about 2,000,000 transactions every month.

The system offers both its own interface that can be integrated with existing systems as well as an API system that will allow companies to build their own unique interfaces to fit their needs.
How To Use The Quickpay System At Online Casinos
The good news for you, as a player, is that there is absolutely nothing special you need to do in order to make use of QuickPay when you're interested in depositing or withdrawing from your casino account. The QuickPay system will simply give the casino more payment options for you to pick from such as Visa, bank transfer, etc.
What Kind Of Payments Can Be Made Through QuickPay?
At the time of writing, QuickPay makes it possible for a vendor to take about 26 different payment types including various types of credit cards, Paypal, Apple Pay, and even Bitcoin. Exactly which payment methods are accepted will depend on the casino's agreement with QuickPay as well as the third-party processors' procedures for working in different areas and with different businesses.
Does QuickPay Offer Good Support?
Knowing that your online casino uses QuickPay will also let you know that you're not going to be on your own if something goes wrong with a payment. The company strives to provide excellent support to both vendors such as the casinos as well as consumers trying to make payments (or make withdrawals.
If you have any kind of problem with a transaction going through QuickPay, you'll be able to get in touch with someone quickly to find out what's going on and get the problem corrected.
How Do I Know If QuickPay Is An Option?
When you go to the banking or cashier section of any online casino, you're most likely not going to see anything saying that payments are processed through QuickPay. You're just going to see the logos of the major payment processors.
What you'll want to do is scroll down to the very bottom of the main pages of the site and look through the icons they have listed there. Most sites will display the logos of just about all of the companies they work with, including gaming providers and payment processors. So, if you take a look at the bottom of the page, you'll likely see that QuickPay logo—and probably a few other things you never bothered to look at that might interest you.
What Does Quickpay Mean To Me As A Casino Player?
Quickpay is a solution working behind the scenes to make things as easy as possible for players all around the world. They're also a company that doesn't work solely with casinos.
This means that you know the company is legitimate and has a reputation to uphold. If they get involved with a company that is doing anything shady, it could hurt their ability to find new clients, to process certain payment methods, or even worse.
When you know that a company is using QuickPay to help you fund and withdraw from your casino account, you know they've proven themselves as a company that can be trusted to act fairly and honestly as well.