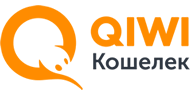 Looking for more information about QIWI casinos? Look no further! Here you will find everything you need to know about this Russian based payment method and the top 5 online casinos where you can find it. Of course, the brands listed here offer lightning fast payouts: one of the most important traits a casino can have.
QIWI is basically an e-wallet + prepaid card that can be used to top up your casino account. There are more than 150,000 kiosks in Russia where you can purchase them and a variety of deposit methods to add funds to it, including regular ATMs. This service is popular in Russia, but you can use it in more than 20 other countries around the world. Just need to make sure that your favourite casino accepts it.
To be honest, I think this service is more suitable to Russian gamblers. One of the main drawbacks is that their site is translated to Russian by default, so you need to watch a tutorial to change language settings – if you don't know Russian … So, if you are located anywhere else, I suggest you check Neteller casinos, because they cover more jurisdictions.
Top 5 QIWI Casinos for 2022
Reputable online casinos accepting QIWI payments
QIWI Casinos Intro
At this point, QIWI is still one of the lesser-known payment methods among bettors in the western world, but more and more casino operators are incorporating it in recent years. The most popular electronic wallet in Russia, QIWI has expanded into other gambling markets, including Europe.
Instant payments, strict security measures, easy way of uploading funds and mobile availability are some of the characteristics of QIWI that make it appealing for online gamblers.
The online casino cashier is a place every internet gambler needs to visit in order to finalise payments. The more different methods the cashier offers, the casino's service becomes more user-friendly
QIWI's History
QIWI was developed by a Russian company called "Obyedinennaya systema momentalnykh platezhey" (United System of Instant Payments). The system was presented in 2008, allowing users to make purchases, pay bills, make money transfers, as well as deposits in online casinos by utilizing cash, cards and other non-cash payment methods. The QIWI wallet has an intuitively comprehensible interface and allows clients to finalise seamless monetary transactions while saving time and enjoying instant processing. The method is owned and operated by the QIWI Group Plc.
The orange payment method has been working in association with Visa since 2013, now counting over 20.3 million active consumer accounts. The wallet provides account holders with access to Visa products with universal acceptance while being able to rely on the security of such a well-known and trusted brand as Visa. At the moment of writing, QIWI is available in the following countries for regular purchases (not online gambling): Canada, United States of America, Estonia, Ukraine, Lithuania, Latvia, Moldova, Armenia, Belarus, Romania, United Kingdom, Panama, Thailand, Russia, Kazakhstan, Japan, South Korea, China, Turkey, India, Israel, Azerbaijan, Iran, Georgia, Kyrgyzstan, Uzbekistan and Tajikistan. Available currencies are EUR, USD, GBP and RUB.
How it Works
Register an Account with QIWI
Before you can choose a QIWI online casino and select this service as your preferred banking method, you need to set up an account with QIWI. Visit the official website and launch the registration form which will require you to enter your phone number. The number will become your account number. Wait for the SMS message to arrive containing your account password. To verify the account, you will need to enter personal information. The more evidence of your identity you supply, the higher your maximum balance and monthly transaction limits will be.
Adding Funds
Once you've successfully opened the wallet, you'll need to upload funds to it. You can use bank transfers, credit or debit card deposits (Visa and MasterCard are both supported) transfers from other e-wallets, like PayPal or Skrill, as well as cash deposits via one of the many QIWI terminals located across Russia. The availability of these 'funding sources' will depend on the country you reside in.
Funding your Casino Account with QIWI
Now that you have funds safely stored in your QIWI wallet, navigate to the cashier page of your selected online casino, select the e-wallet option and choose QIWI.
Depending on the casino's interface you will likely need to enter the sum you wish to deposit and confirm it. Some casinos will direct you to the QIWI wallet right away and you will need to sign in to your account by using your number and password before you are asked to specify the amount you'd like to transfer to your casino balance. Keep in mind what the casino's deposit limits are. The final step is payment confirmation. The transferred funds should be readily available on your balance not long after you have confirmed the transaction.
Few Casinos Offer Withdrawals with QIWI
There aren't many online casinos offering QIWI withdrawals. If your favourite gambling site does, follow these steps to complete the process:
The withdrawal process is mostly the same routine. If you have accumulated funds on your balance and you wish to cash out, simply go to the payment page and if the casino allows withdrawals through QIWI you will have to enter your phone number and password together with the specific amount you'd like to transfer and then wait for the casino to clear the transaction. It depends on the casino and how it deals with withdrawals via this payment method, so the cash-out process may take several days.
Advantages of QIWI Casinos
Opting for QIWI as you preferred banking system comes with numerous upsides, especially if you're a Russian active online gambler and you require a steady flow of funds and a certain level of flexibility. Some of the main advantages of being a QIWI user include:
Payments are instantaneous with QIWI. As soon as you confirm the transaction, you can expect to see the money on your online casino account. It's a matter of seconds when you will be able to start playing your favourite games for real winnings.
Apart from being easy to use on desktop, QIWI's service was also specifically designed to work on mobile phones and tablets.
Through its partnership with Visa, QIWI uses a proven fraud protection system. The website itself uses SSL encryption to safeguard the client database.
Forget about complicated authorization or passwords. Your mobile phone number will be sufficient to manage your QIWI wallet, and the processor will generate a safe password for it that you don't have to remember as you will have it stored on your phone, at hand.
Eligibility for Casino Bonuses
Unlike PayPal and Skrill users, who are often restricted from receiving casino welcome bonuses, QIWI users do not face that problem. They can claim any first deposit or reload bonus through QIWI payments.
QIWI allows a maximum balance of up to 15,000 RUB, which is around $200. The limits are enough for casual casino players and allows them to control their expenses and manage their bankroll. If you are a casino high roller, this method won't work for you.
Fees
QIWI imposes a fee of 6% for depositing money into your e-wallet. Luckily, there are no fees applied to transactions directed towards online casinos. In other words, you can top up your casino balance free of charge. Withdrawing money from your QIWI wallet also carries fees from 1.5% to 2.5%, depending on the way of withdrawal. Don't forget to factor in any charges the casino may have before you carry out any transactions.