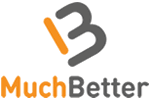 Looking for more information about Muchbetter casinos? Find the best gambling sites that accept the Muchbetter payment system as preferred solution for casino banking.
The MuchBetter payment system is a combination of a mobile app and an e-wallet system. The basic idea of the system works much like other e-wallets, but it is much more streamlined and includes functionality that many other online payment methods do not.
MuchBetter is very quickly becoming accepted at more and more online casinos and garnering the admiration of more and more players and users. One of the main advantages of the app is that it bridges the gap between just about any casino and several different types of currencies.
Muchbetter Casinos for 2022
Top rated casinos with fastest payouts
Setting Up A MuchBetter Account
Setting up a MuchBetter account is really very easy. All you'll need to do is download the app and install it on your phone. You can check out their website for detailed instructions—which you probably won't need—or just download from Apple's App Store or the Google PlayStore.
Once you install the app, all you'll need to do is follow the instructions for creating an account, which should take you less than about 10 minutes. You will, of course, have to put in your personal information and then you'll be asked to provide photos of some documentation as well as take a selfie of yourself so that they can verify everything matches.
Once you've taken and sent all the photos, the final verification process usually takes just a few minutes. You'll then be notified that everything is ready to go.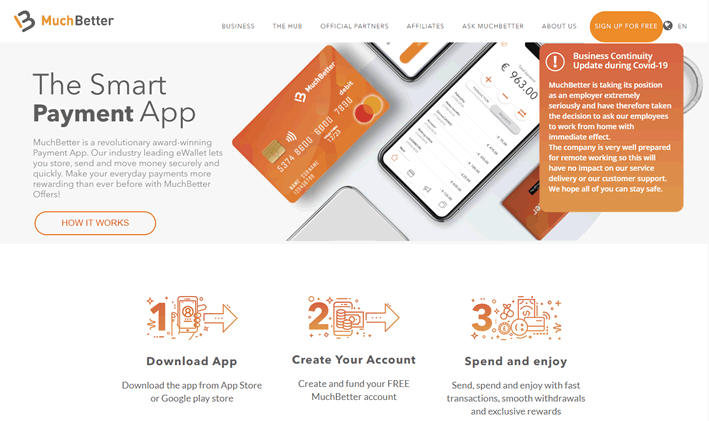 What Can I Do With MuchBetter?
Although we're looking at MuchBetter as a payment method for use with online casinos, you can actually do quite a few more things with it.
The app will, of course, let you add money to your wallet through your chosen currency. It will also let you use the Astropay card as well as cryptocurrencies including Bitcoin, Ethereum, Litecoin, and XRP. You can also withdraw using these methods as well, so if you hit some winnings on the slots, you don't necessarily have to withdraw and put them in your bank account. You can also use them to buy BTC, for example.
Similar to Paypal, MuchBetter will also let you send money directly to friends and family instantly. So it becomes a great option if you often need to transfer money to family members or friends in different locales.
Security With MuchBetter
Unlike some other wallet systems out there, MuchBetter takes quite a few steps to make sure that your account and your money stay secure. Your account is tied to your phone number but also paired with your individual device. This means someone can't nick your SIM chip and put it in a different phone and start using your account.
You can also set up dynamic security codes, a touch ID system, and more.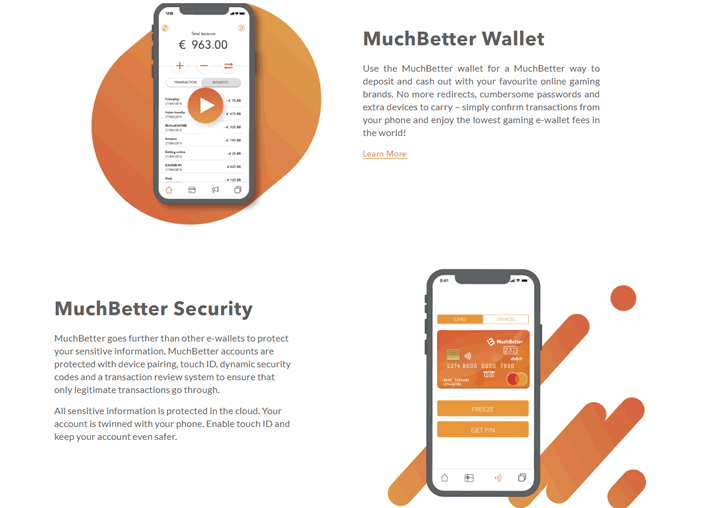 More Than Just The MuchBetter App
MuchBetter is also quickly becoming more than just an e-wallet and app. It's now possible to request a real-plastic Mastercard that can be used to spend your wallet balance wherever Mastercard is accepted.
Really pushing the limits, the company has also begun making wearable technology available. You can get something as simple as a MuchBetter key chain that will let you pay by swiping it over a Mastercard terminal, but they've also begun distributing quite fashionable watches that work with the same technology built into the glass of the watch.
Of course, no matter how you choose to use MuchBetter, you're going to get a notification on your phone that a transaction is being attempted and you'll need to approve it. Again, nobody is going to just nick your watch or keychain and run off with your money.
How does Muchbetter Work?
Here you can check an official video from the Muchbetter team:
Making A Casino Deposit With MuchBetter
Before you make any type of casino deposit you'll need to make sure you have funds on your MuchBetter account. You can manually type in whatever amount you like, but the system will always give you three quick-touch buttons of $25, $50, and $100.
Money coming from a credit card or bank transfer will show up pretty much instantly, whereas crypto transfers can take some time to complete because of their verification methods. When using BTC, for example, it's recommendable to pay the higher BTC transaction fees so that your transfer gets pushed through faster.
Once you have a balance on your MuchBetter account, just go to your favourite casino and select the MuchBetter deposit option. The system will simply ask you how much you want to deposit, and the phone number of the device that is associated with your account. That's all there is to it.
You should get a push notification on your phone within a few seconds. All you'll need to do is approve the transaction and the amount you've sent should be credited to your balance instantly.
Withdrawing From Muchbetter Casinos
Withdrawing from any casino with MuchBetter is pretty much the same process. Go to the withdrawal section in the cashier and choose the MuchBetter option. When you select withdraw you'll be asked how much you want to withdraw and the phone number associated with your account. Fill out the information and, once again, you'll receive a push notification on your device to approve the transaction.
Once approved, your money should appear in your balance. You can then withdraw it to your bank or a cryptocurrency, or leave it there to spend through any other system that accepts MuchbBetter. Or, if you're the generous type, you can send it to a deserving friend.
MuchBetter Looks Like It's Here To Stay
MuchBetter definitely looks like it's an option that's here to stay. It works extremely well and, most importantly, simply and quickly. Once your account is set up you'll find that it's very easy to move money around in just a few seconds. It was also conceived specifically with gaming in mind, so you don't have to worry that one day they're suddenly going to tell you that you can't use it to fund a casino account anymore.
FAQ
In which countries is Muchbetter accepted?
You can use Muchbetter as your preferred casino banking method in most casinos around the world, except in USA and few other countries.
What are the fees, compared to other casino banking methods?
Muchbetter fees can be considered low. For example, you can fund your Muchbetter account for free via wire transfer and other options. Paying a merchant is also for free and currency conversion between USD/GBP/EUR is 0.99%. You can check the Muchbetter fee chart here.
Which online casinos accept MuchBetter?
1. Spinit.
2. Genesis.
3. Casino Joy.
4. Spela Casino.
5. Sloty Casino.
How can I create a Muchbetter account?
First, you need to download the Muchbetter app. We listed useful links for iOS and Android users. Then you need to add your mobile number and a method to fund the account.
How fast is Muchbetter when requesting a casino withdrawal?
Muchbetter withdrawals are INSTANT. That means that you can expect your payments to arrive to your Muchbetter account in a couple of minutes. Then you can send it to your bank or convert it to BTC if you wish. There are multiple methods you can choose from.
How do I request a casino withdrawal using Muchbetter?
First, you need to check that your favourite casino offers Muchbetter as a banking method in the cashier. Then, you just need to select it as your withdrawal option and add the amount you wish to withdraw.
To which other banking methods can I send my Muchbetter funds?
Muchbetter is integrated with many other payment methods such as: instadebit, INTERAC e-Transfer, VISA and Mastercard, Pagofacil, Itau bank, Yandex, BTC and many others.
Are there special bonuses offered at Muchbetter casinos?
Muchbetter casinos are within our top 5 so you can always find special bonuses available to new players. You just need to visit their promotion section regularly to find out what they prepared for you. For example Spinit Casino, offers one of the best welcome packages around, with a huge match bonus plus hundreds of extra spins.