eCheck casino sites are predominantly preferred by European players. Basically, e-checks are the digital version of the well known paper checks. They contain all the information that a retailer or bank need to process a payment, therefore some of your financial information is disclosed. It's not the fastest deposit method around, but it's an alternative to deposit at an online casino without disclosing your credit card details.
Due to regulation changes in the gambling market, there are very few USA casino sites accepting echecks. For example, 888 Casino is regulated and available in some states, so if you are really looking to deposit using e-checks, that will be the best destination we can recommend. Las vegas USA casino also accepts deposits and withdrawals with eCheck. Otherwise and if you are located there, don't waste your time reviewing this method and visit our section listing the best USA online casinos, where you will also find preferred payment methods for your location.
There are many advantages and disadvantages to using this method for deposits and withdrawals at an eCheck casino. For example, it takes around 3 to 5 days business days for the funds to arrive to your account and this may be a problem if you want to start right away… Stay with me while we get into the details.
Best eCheck Casinos in 2022
Best online casinos with eCheck deposits and withdrawals

How does it work?
This is an electronic money transfer order that is connected to your bank account, which supports it. You can find echeck services at PayPal Casinos, Neteller and Skrill, between others. In fact, many electronic payment services use it. An electronic check provides higher security than the regular ones, due to the features attached to it, which include: authentication, encryption, digital signatures, and public key cryptography. There are also fewer steps to process it and less people involved, therefore lower risk to suffer identity theft. The biggest advantage comparing the traditional and electronic method, is that you won't need to physically mail an e-check, reducing the waiting time. The process itself is instantaneous and happens over the internet, while funds are credited 3 – 5 business days later.
Like standard checks, an echeck draws money from your personal bank account identifying each transaction with a unique traceable code. If you own a check book, you can probably use this method. The process starts from the merchant cashier – call it casino – and goes directly to your personal bank account, also in case of withdrawals.
In which countries is it available?
eChecks are available to Canadian and European players, with less presence in USA. The truth is that years ago there were many more U.S online casinos accepting eChecks, but due to regulation issues, processing gambling transactions using this method became more rare.
Please note that echecks are regulated by the same laws than standard checks so restrictions may apply. Not only in regards to availability but also limits for deposits and withdrawals at gambling sites.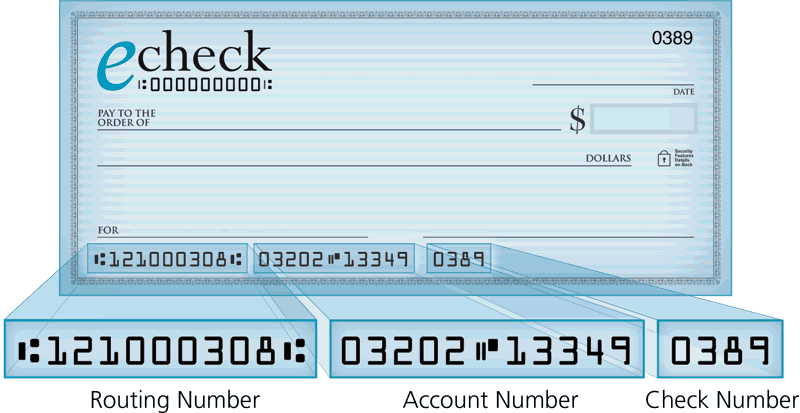 Advantages of using eChecks
Time needed for eCheck clearance is faster than for standard checks and balance goes straight forward to your account without the need of physical transportation. You won't need to mail your eCheck and won't need to go to your bank branch to deposit it. Everything is handled online in fewer steps, making it faster in the digital version. Also, there are lower processing and billing costs because less people intervenes in the transaction. Comparing to deposits using credit card, there is lower risk of identity theft – due to the fact that you set a fix amount in a one time payment which retrieves a unique transaction code.
Depositing at your favourite online casino using echecks is simple, fast and secure and this is enough for many casino players. Withdrawals are less convenient but considering jurisdictions where you don't have many options, eCheck casinos are a great alternative.
By using this method, you are less likely to overspend, because you are wagering with existing money from your account.
How to use eCheck for Casino Deposits
First of all, you need to verify that "Instant eCheck" is an available option at your casino cashier. In case you see the logo, click on it and complete the form including all the information requested: bank name, account number, routing number and the amount you wish to deposit. Read the casino T&Cs for more information about deposit / withdrawal limits before confirming the deposit. In many cases, the casino will ask you to verify your account before processing the transaction. This makes total sense, considering that the operator will only receive your funds 3 to 5 days later.
That's pretty much it. The casino will notify you once the balance is credited in your account.
eCheck Casino – Withdrawals
While there are many casinos that accept deposits using eChecks, not all of them allow withdrawals using the same method. Gambling operators prefer to use regular wire transfers (when available) instead of eChecks. Contact the casino representatives to better understand what the options are. In case you can't withdraw your earnings using this method, the casino will offer many others, so don't worry. The thing is, probably this won't be so convenient as handling all your gambling payments with one payment method. But that's up to you.
Fees and Timeframe
Many casino players consider this method as safe and fast. Honestly, it depends to what you are comparing it to. For example, eChecks are faster than traditional checks but slower than e-wallets and other electronic transfer services. eCheck Casino sites process payments within 3 to 5 bussiness days, but in case of verified accounts, you will probably be given a credit to start playing, even before the funds really hit your account. It would definitely be too risky for the casino to let you wait for so long… you can lose interest and decide to play at another venue.
Fees are between 0.30$ and 1.50$ per transaction and usually the minimum deposit limit is £/$/€ 100.
Conclusion
The truth is, there's no reason to use eChecks for deposits / withdrawals if you have better options available. If you are located in Europe / New Zealand or Canada, you will likely have many processing methods to choose from, such as e-wallets and other convenient money transfer services. USA players are deprived of most methods that European players can use, so they should definitely check this option. Sadly, as time passes, there are less USA friendly online casinos accepting eCheck transactions. It was a popular payment method in 2003, but in 2018 we could barely find any eCheck Casino to list in our page.
While there's no doubt that eCheck is simple and secure, due to all the secure features attached to it, we can't say that it's fast. Yes, it is faster than his traditional counterpart, but can't be compared to Bitcoin, e-Wallets or Electronic Transfers. eCheck fees are low, but so are others.
It is important to remark that some jurisdictions won't allow check / echeck deposits for gambling purposes, therefore you need to check how it works. Specially in the case you are planning to deposit high sums. You definitely don't want to follow all the procedure and find out – at the end – that you can't use the money to gamble because it's illegal in your country.
Another big thing about this payment method, is that you need to have funds in your bank account. eChecks can – and will – bounce just like a regular check in the event that you don't have money to cover it. It sounds quite obvious but you need to be attentive about this to avoid any issues.