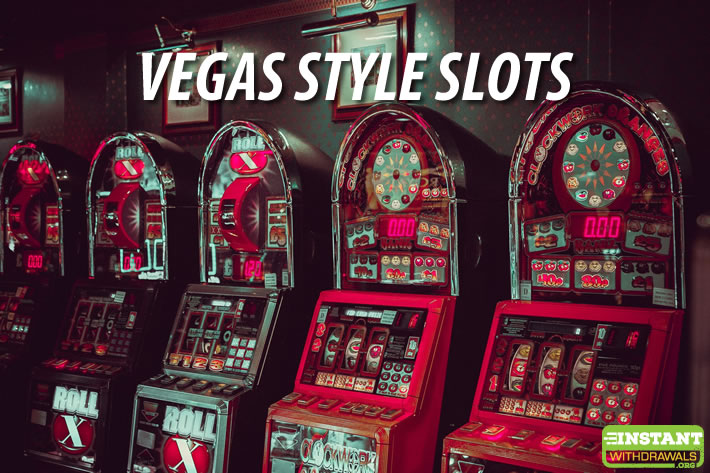 When you hear the words "slot machine", the first thing that comes to your mind is most likely Las Vegas. Similarly, when you hear the word "Vegas", it's almost certain that the first image that you see before your mind's eye will be rows of flashing, singing slot machines. In an eternally symbiotic relationship, Vegas made the slots and the slots made Vegas. Like good and evil or light and dark, one simply wouldn't exist without the other.
In the years since the invention of the first slot machines, the word "Vegas" has become inexorably attached to the world's favourite gambling machines. We often hear people saying that they're going out to play some Vegas slots, or see ads from online casinos offering real Vegas-style slots. People wouldn't go to Las Vegas if they couldn't play the slots and people won't play slots that don't deliver that real Las Vegas feeling.
There are different names for them all around the world, but everyone in every language knows exactly what you're talking about when you say "Vegas slots". American casino players and Canadians call them slot machines or simply slots. The British often use the term fruit machines or fruities. The Scotts like to play a few spins on their favourite puggy. New Zealanders and Australian gamblers got to know them as poker machines and eventually shortened the name to just pokies. The one-armed bandits, as they have often been called, are popular in every corner of the globe.
First appearing just a little more than 100 years ago, the original, mechanical, three-reel slot machines have since evolved into electronic, digital wonders that not only make use of today's cutting edge technologies, but many now exist solely within the virtual realms of cyberspace.
⏳ Origins Of The Vegas Slot Machine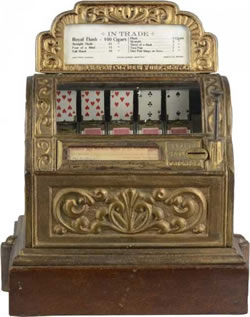 The first game to resemble what has come to be known as a slot machine was created in 1891 in Brooklyn, New York by the Sittman and Pitt company. The game was based on poker and contained five rotating drums with a total of 50 different cards on them. These first poker machines proved to be extremely popular with bar patrons around the city.
Players would insert a nickel and pull a lever which would set the drums in motion. There was no direct or even set payout system. Prizes were dependent on the establishment where one was playing. The higher ranked the poker hand when the drums stopped, the better the prize the player would receive.
The fact that only 50 cards out of a standard 52 card deck were represented on the drums gave the house an edge on every game. Usually, the ten of spades and the jack of hearts were omitted, which cut the odds of hitting a royal flush in half. Game owners could also rearrange the drums in the machine to further reduce the odds of hitting winning combinations.
Simply because there were so many possible winning combinations in a poker-based game, it was virtually impossible to build any type of automatic payout mechanism into these early machines.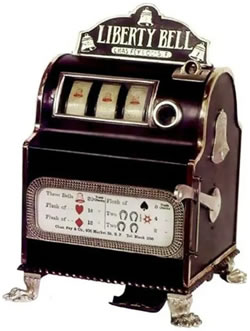 The Liberty Bell Becomes The First Vegas Style Slot Machine
The exact date is unknown, but at some point in time between 1887 and 1895 a man named Charles Fey working in San Francisco, California devised an automatic mechanism that would become the very first "vegas slot machine" as we know them today. Fey's design had three spinning reels populated by five different symbols. Those symbols were horseshoes, diamonds, spades, hearts, and a Liberty Bell—which gave the machine its name.
By reducing the number of reels to three and the total number of symbols to five, Fey was able to reduce the complexity involved with checking for winning combinations and put together a completely automatic payout system. This first slot machine had a single pay line across the middle of the reels. The largest prize—50 cents paid out in ten nickels—was awarded for matching three Liberty Bells.
The Liberty Bell was an overwhelming success and gave way to a thriving industry based around the new mechanical slot machines. Ironically, California banned the games after just a few years. Fey, however, was still racing to keep up with the demand for new machines coming in from other parts of the country.
Imitators Are Quick To Get In On The Action
As happens with most innovative and popular inventions, the Liberty Bell design was quickly copied by other mechanical game and slot machine manufacturers. The first copy, which even went so far as to copy the Liberty Bell name, was produced in 1907 by Herbert Mills. By 1908, the "bell" machines could be found in cigar stores, bowling alleys, saloons, bars, barbershops, and anywhere else where people might be tempted to pass some idle time by playing a few spins.
The first of Mills' Liberty Bell machines were more or less exact copies of Charles Fey's original designs and used the same symbols on the reels. Shortly afterwards, however, Mills began producing slot machines with patriotic symbols such as flags and wreaths.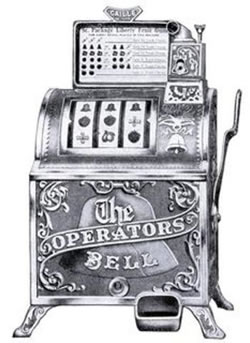 Eventually, a machine called Operator's Bell was released and included an option to add a gum vending attachment. Because the gum offered with these machines was fruit flavoured, fruit symbols became a natural addition to the slot machine's reels. The bell symbol remained and other symbols included lemons, cherries, oranges, and plums. There was also a special symbol, a picture of a stick of Bell-Fruit Gum. This symbol would eventually become the famous "BAR" symbol that still appears on many slot machines today. This set of symbols proved to be extremely popular with players and was again copied by other slot machine producing companies.
Bally introduced Money Honey, the first electromechanical slot machine, in 1963. With its new technology, Money Honey was the first slot machine to have a "bottomless hopper" and automatic payout system that could award players up to 500 coins without any intervention from an attendant. The machine was an instant favourite among players and paved the way for the eventual takeover of electronic Vegas slot machines. As slot machine designs began to include more and more electronics, the classic pull-lever that gave the slots' their "one-armed bandit" moniker became more decorative than functional.
The first video slot machines, which represented reels on video screens rather than using actual mechanical wheels, was developed in Kearny Mesa, California in 1976 by Las Vegas-based Fortune Coin Company. The company modified a 19-inch Sony Trinitron colour receiver to serve as the game's display and all slot machine functions were handled by custom-designed logic boards. The first prototype was mounted in a standard full-size slot machine cabinet.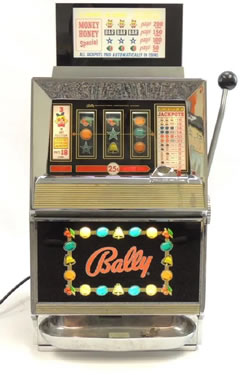 The first of Fortune Coin's video slot production units were installed for a trial period at the Las Vegas Hilton Hotel. During the trial, some modifications were made to the original design in order to mitigate attempts at cheating. After the initial bugs had been worked out, the world's first fully video slot machine was approved by the Nevada State Gaming Commission.
This new kind of slot machine didn't take long to gain popularity all along the Vegas Strip as well as in downtown Vegas casinos. In 1978, International Gaming Technology (IGT) purchased Fortune Coin Company and its valuable video slot machine technology.
The first video slots to offer "second screen" bonuses appeared in Australia around 1994 and a bit later in the United States, in 1996. These slots were the first to use video screens to leave the reels and go to a separate bonus feature based on a different game that would award additional payouts before switching back to the reels to resume regular play.
The Many Variations Of Vegas Slot Machines
Slot machines have come a long way since the first mechanical gambling machines were released. In the modern world, where casinos exist in the cloud and virtual games don't require any floor space, competition among game developers and software providers is fierce. Casinos can literally offer a limitless selection of games to their players.
In cyberspace, it doesn't matter if you have one slot machine or 100. Everything takes up the same amount of space—none. Today's casino operators are no longer limited by square meters, electricity concerns, or maximum occupancy regulations. They can add and remove games from their catalogues with a few clicks of a button—no moving crew required.
Game developers know that if they want to keep their games on the front pages these days, they have to continue to innovate and impress players with each new release. Those who sit idle for too long are quickly forgotten as tens of new slots hit the market every month.
Following are just a few of the ways real-money Vegas-style slot machine developers have updated, changed, and enhanced the gambling world's most beloved game of chance.
More Pay Lines For More Excitement
The first and most obvious way developers tried to inject new life into classic slot machine games was to simply add more pay lines. With the original Vegas slot machines having just one pay line across the centre of the reels, adding more lines gave players more ways to win on every spin.
At first, most new slots came with three, five, or nine pay lines. Generally, the player had to wager one coin on each line he wanted to "activate" for that spin. So, if someone was playing for $.05 on each line, he would need to wager $.25 per spin to activate all pay-lines on a five-line machine. Playing the maximum number of lines offered on a machine often activated special bonuses or higher payouts that one could not collect when placing smaller bets.
Always trying to outdo one another, designers began to add more and more pay lines to their games. Soon there were games with 12 or 15 lines. It didn't take long then for games to show up with 20 or 25 lines. Eventually, numbers started to get much larger, soon hitting 40, 50, and even 100 pay lines on a single slot machine.
These changes did add to the excitement of playing the slots, but there were some unintended consequences as well. Since many games continued to follow the traditional concept of betting one coin on each pay line, as the number of pay lines rose, so did the amount of money needed to play these new games.
For the more conservative gamblers, the idea of multiplying their base bets by 25, 50, or 100 times was not very attractive. Sure, players didn't have to play every available line if they didn't want to, but then they couldn't receive maximum payouts or special bonuses either.
Making things just a bit worse, many video slots started popping up with fixed pay lines. In other words, players had no choice. They had to either play all of the pay lines or not play at all. Many game providers dropped the minimum value of coins that could be played in an attempt to keep minimum bets from getting out of hand. Even so, many players still don't like the idea of not being given a choice. In many cases, the minimum wager remained at something around $.25 or more. Not all players were willing to play these games when they could play others for $.10, $.05, or even $.01 per spin.
It didn't take long for Vegas slot designers to realize that they had hit a virtual wall. If they wanted their releases to stand out from the crowd and keep players happy, they were going to have to do more than just pack as many pay lines as they could into each new video slot machine.
The "Ways To Win" Payout System
Pushing past the idea of making winning combinations on specific lines across the reels, the "ways to win" system was developed. This system makes it possible to win no matter where the same symbols stop as long as they appear on at least three adjacent reels starting from the left.
Depending on how you look at it, this system either does away with traditional pay lines completely or just creates so many pay lines that every possible combination becomes a winning combination. All slot machines that use this system to determine winning combinations will generally tell you how many ways there are to win, but you can also do the math quickly to figure it out for yourself.
To get the total number of possible ways to make a winning combination you just have to multiply the number of rows on each successive real until you've multiplied them all. For example, on a standard five-reel, three-row slot, there are 243 ways to win. You can compute this by multiplying three five times. 3x3x3x3x3 = 243
With more rows and/or reels, the number of ways to win increases. For five reels with four rows, you would get (4x4x4x4x4) 1024 ways to win. The same formula works for slots with an uneven number of rows. For example, if you're playing a five-reel slot that has a row configuration of 2-3-5-3-2, you would do the same thing. This type of layout would give you (2x3x5x3x2) 180 ways to win.
Placing wagers on this type of slot machine can vary a bit between slots from different developers. Some simply present the player with a list of preset wager amounts to choose from. Others will play as if you're betting with 10 or 20 coins and give the player the option to set the coin value. Either way, you're basically laying down a flat-rate bet on each spin that is considerably less expensive than betting one coin on each of 256 lines. These games give players excellent value for the money they bet.
If you compare the cost of playing on a vegas style slot with 243 ways to win versus a slot with 50 traditional pay lines, using the same coin value on both, you would have to bet more on the 50 line slot in order to activate all 50 lines. With a slot that pays out based on winning ways, you get hundreds more possible ways to win for a smaller wager. Best of all, the more ways there are to win on a slot, the better the value you're getting on the bets you place.
More Ways To Win On Vegas Slots Than Ever
It's been quite some time since the first 243 ways to win slots were released. In the endless race to get to the front of the pack, video slot machine developers have pushed the concept of winning ways to extremes.
The beauty of the winning ways system is that by simply adding one reel or one row to any slot machine, the number of possible ways to make a winning combination goes up thousands of times. By adding just one row to the common five-reel, three-row slot the number of winning ways jumps from 243 to 1,024 (4x4x4x4x4). Add a sixth reel to the four-row layout and the number of winning combinations jumps again to 4,096.
With thousands of ways to win on a single slot machine, you'd think both players and designers would be happy. As it turns out, having a few thousand ways to win was just the beginning. Of course, new slot games were eventually released with more than 8,000 winning ways, and then 12,000, and so on. One slot machine design studio, however, was determined to push this concept to its absolute limits.
Before long, Big Time Gaming—more commonly referred to as BTG—created the Megaways™ video slot game mechanics. With a standard Megaways configuration, a slot machine will have six reels, each with a varying number of rows. Each reel on a Megaways slot spins independently and will stop with a different number of symbols showing on every spin. The most common Megaways slots allow for the reels to stop with any number of symbols between two and seven.
The minimum number of ways to win on a standard Megaways slot, if all six reels stop with two symbols showing, is 64 (2x2x2x2x2x2). On the other hand, if all reels stop with the maximum number of symbols showing—seven—you get 117,649 ways to make winning combinations (7x7x7x7x7x7).
More than 100,000 possible ways to win on a single spin might sound outrageous, but believe it or not, a handful of slots have already surpassed that seemingly unbeatable number. By adding special features such as extra horizontal reels and pay both ways mechanics (wins are paid on combinations going from right to left as well as left to right), several vegas-style slot machine titles now offer players more than 1,000,000 possible ways to win on a single spin of the reels. Now that is extreme value for the money you wager.
Cluster Pay Slot Machines
The cluster pay system is another innovation born from online video slots that have taken things to places that are simply unreachable with physical, mechanical slot machines. NetEnt gets credit for being the first to release an online video slot that pays players for clusters of matching symbols rather than linear matches across lines or winning ways. The first groundbreaking cluster pay video slot machine carried the rather insignificant title of simply, "Aloha".
As with all slot machine formats, cluster pay slots will vary a bit but all share the same basic concept. Rather than paying for wins across lines, winning combinations are formed whenever clusters of symbols form anywhere on the playfield. Most cluster pay games will have reels that form a game grid of at least five reels by five rows, or 25 symbols in view at all times. Many of these slots have more. The most common number of symbols to count as a winning cluster is five, although, again, different games may require more or less. In general, a cluster is formed by symbols connected either horizontally or vertically, but not diagonally.
Just like a traditional slot machine, it's possible to win with more than one combination on a single spin. You may land more than one cluster of the same symbol or multiple clusters with multiple symbols. Payouts for wins are based on the value of each symbol and how many of each symbol are connected in each cluster. The more symbols you have in a cluster, obviously, the higher the payout is going to be.
Cascading Symbols
Another feature that has become both popular and quite common on Vegas-style video slot machines is cascading symbols. You may see this feature advertised under a few different names. Games designers have come up with several different names, but they all use the same concept.
A symbol cascade is when symbols in winning combinations are removed from the reels after a winning spin and new symbols replace them on the reels. This game mechanic makes it possible to win multiple times on any winning spin. Most slots that employ this particular game mechanic will have the feature repeat with each newly formed win until no new winning combinations are made.
The beauty of the cascading symbols feature is that it can work on any type of slot machine. You will see symbol cascades on traditional slots, ways to win slots, Megaways™ slots, and cluster pay slots. In recent years, it has become one of the most used slot machine bonus features all throughout the gambling industry.
Vegas Slots That Pay Both Ways
As we briefly mentioned above, there are also slot machines that "pay both ways". What this means is winning combinations can be formed starting on either side of the reels. Whereas symbol matches have to start on the left-most reel on the great majority of video slots, pays both ways slots will also count a win for combinations that start on the right-most reel.
This might not sound like a very big deal, but the net effect is that this type of payout system doubles your chances of landing a winning combination. Combinations that span all of the reels, in particular, are extremely valuable. For example, if you land a five of a kind winning combination on a five-reel slot that pays both ways, you'll win once counting from left to right and once counting from right to left with the very same combination of symbols.
Return To Player Rates And What They Mean
Finally, no matter what kind of slots you like to play, something you should always be aware of is a slot machine's return to player rate. This is often referred to as the RTP rate. It doesn't matter how a slot machine works, what features it has, or who designed it. Every slot machine has a specific return to player rate that indicates how much of the money wagered on that slot is eventually returned to players as winnings.
Most online video slot machines released today have an RTP rate of somewhere between 93% and 98%. Some slots are designed with a fixed RTP rate that will be the same no matter where you play and others allow casino operators to choose an RTP rate, usually from a short set of preset values. You'll be able to find the RTP rate of most modern video slot machines in either the game's settings, payout table, or help section. Unfortunately, not all game design studios publish the RTP rates of their slots, but you'll find that the great majority do.
How The RTP Rate Of Vegas Slot Machines Works
The return to player rate is an indication of how much of the money wagered on a machine will be returned to players as winnings over a long-term period of time. The key factor in that sentence is "long-term period of time".
For example, a slot machine with a 96% RTP rate will, over time, return $96 out of every $100 wagered to players in the form of winnings. Looking at it from the other side, this machine would have a 4% house edge.
What one has to keep in mind, however, is that during shorter periods of time, anything is possible. If you sit two people down at identical slot machines and give them both 100 spins, they could experience very different outcomes. While it's not very likely, one might sit down and lose every single spin without winning a single time. The other player might spin just 20 or 30 times and hit a jackpot worth thousands.
The RTP rate is more of a measure of how things will work out over the lifetime of a slot machine. Over samples of hundreds, thousands, or even hundreds of thousands of spins, there could be wild up and down swings experienced by many players. During these small samples, the payout rate could be much higher or much lower than the stated RTP rate. As the sample size grows, though, and the number of spins reaches into the millions or hundreds of millions, the overall payout rate will get closer and closer to that programmed return to player rate.
To illustrate, a machine with a 96% RTP rate that has been played a total of 100,000 times for $1 per spin may have only paid players back $70,000 instead of $96,000. On the other hand, it may also have paid players back $99,000 (or even more). If you look at the payouts of that same slot machine after, say, 10,000,000 spins, it is much more likely that the total payout is going to be much closer to that 96%, or $9,600,000.
For players, there will always be large ups and downs, simply because it's so difficult for any single person to generate a large sample. For the house, though, which sees millions and millions of spins on their games, that 4% house edge is something they can count on to generate profit over time.
The Future Of Vegas Slot Machines
We've come far enough to know that trying to guess where slot machines will go in the future is an exercise in futility. Whenever we think we've seen something that can't be topped, someone comes along and reminds us that with today's technology, the top of the line is much farther than we can possible see—or imagine.
What we do know is that whatever comes down the line is going to be epic. Vegas slot machines have not just been getting better, but the rate at which they get better is accelerating. As new computer technology is developed, explored, and put into use, relentless innovation and vast imagination bring us new games that would have seemed impossible only a few short months before.
We don't know what's coming, but whatever it is, we can't wait to be blown away (again)…