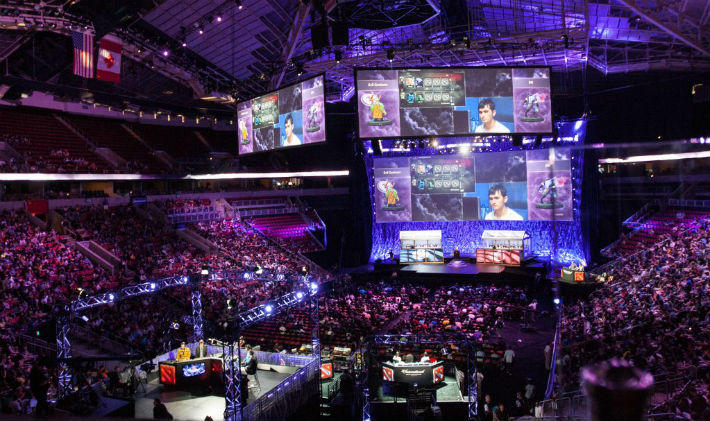 Despite attitudes towards gaming still varying, there is one thing everyone can agree on – eSports is, indubitably, one of the fastest-growing and most lucrative industries today. In the early to mid-2000s, the eSports scene only involved small-time tournaments and just a handful of players who have become celebrities in their own communities. With imminent digitalization and people noticing the potential of eSports, the situation has changed dramatically.
Streamers like Ninja have become true celebrities, contributing to an industry that has an estimated worth upwards of $1 billion. However, despite sold-out arenas, million-dollar prizes and fame, there is still one facet that has been relatively unexplored – eSports betting.
With titles like DOTA 2 and League of Legends already being well-established global phenomena, many online casinos have begun to offer eSports betting for eligible aficionados. Whether you want to support your team or earn a pretty penny, your options are virtually limitless.
Best eSports Betting Sites
Top eSport sites with fastest deposits and withdrawals
What Are the Most Lucrative eSports Games in 2019?
As magnanimous the eSports industry is now, not all games are created equal. The bigger the game, the higher the chances of you winning. Why, exactly? The most lucrative games get the most coverage, which results in more information about various teams, players and their respective weaknesses in strength. For beginners, an ideal foray into eSports betting should be with these five games:
DOTA (Defense of the Ancients)
Counter-Strike: Global Offensive
League of Legends
StarCraft II
Heroes of the Storm
While all five titles are immensely popular and lucrative (for both players and gamblers), they are also different from one another. Knowing which type of game you are betting on will give you a better idea of the props involved and the overall probability of winning.
What Types of eSports Games Can You Bet on?
As different games have different objectives and features, so does your approach to betting on them. There are four genres of games that are highly regarded. Knowing the specifics about each genre will help you gain a better understanding of what props you should choose.
1. First Person Shooters (FPS)
The simplest eSports games to place bets on, FPS can be understood by laymen without any difficulties. Basically, such titles feature two teams with an objective to kill one another. The gameplay is akin to a war-like environment, without too many specifics to remember. Each player views the game from a first-person perspective, like they observe things in real life. In addition to exterminating the other team, there are also minor side quests included (in some cases).
Prominent games in this genre are:
Call of Duty
Counter-Strike
DOOM
2. Multiplayer Online Battle Arena (MOBA)
Set in an arena-like environment, two teams of players are pitted against one another in order to see who can complete the objective first. This usually involves destroying the other team's base. Everyone has their own virtual character (or "hero") with special abilities. Some heroes work well together, while others do not. There are also computer-controlled units that support their respective teams.
Some MOBA games worth mentioning are:
DOTA 2
Heroes of the Storm
League of Legends
3. Combat
The name speaks for itself – players select characters and use their abilities to defeat their opponents in one-on-one virtual combat. This genre, along with FPS, is one of the best options for those new to eSports betting, as individual skills is the deciding factor in each competition. Gameplay often involves complex and spectacular combo moves, making combat games entertaining to watch.
Notable titles are:
Tekken
Soul Calibur
Street Fighter
4. Real Time Strategies (RTS)
Whilst playing games in this genre, the goal is to destroy the other team's/player's base. Everyone starts from scratch before they have to build a stronghold. Main objectives include defending your own base and mustering enough forces to attack your opponents. Almost every RTS has strategies that players can follow to ensure their victory.
Games you should take notice of are:
StarCraft II
Stronghold
Company of Heroes
How to Place a Bet on eSports Games?
Betting on eSports is no different than betting on football. You can place bets on individual games, side props or anything else a particular online casino offers. All you have to do is find a list of upcoming tournaments and matchups and take a look at the spreads. Depending on the operator, you will find some spreads more competitive than the others.
In the end, it's completely up to you. Every legitimate casino offers live odds, which you should analyze thoroughly. Select the games and props you're interested in and just add them to your betting slip. You will then see an estimated return, with or without bonuses. Upon entering your information and viewing your slip once again, you're ready to go.
Some of the best places to start are Bovada (USA) and Bet365, but states with recently-legalized sports betting are also primed to help the overall interest expand on a global level. When looking for an online casino that offers eSports bets, you have to take several factors into consideration. Team form, player rankings and your knowledge of a particular game can greatly impact the outcome of your slip. Take your time and gain insight about every possible detail.
How to Watch eSports Games?
Before you begin betting on eSports, you have to become immersed into the actual gameplay. Many events are live-streamed by organizers, so you can see what a game looks like in real time. You can also follow your favorite players on Twitch and the recently emerged Mixer. As you become more involved, individual players will become more recognizable and you'll learn how to place bets by learning different playstyles.
In addition to livestreams, many networks such as ESPN show eSports events. Depending on your location, you can also watch regional leagues and smaller tournaments.
Concluding Thoughts
While placing bets on eSports games is not different from traditional sportsbooks, you will have the challenge of learning the ins and outs of every game you want to bet on. The best way to accomplish this is to watch gameplay videos, live events and be careful when it comes to analyzing the odds. Good luck!