Olivia Bowen, known for her time spent on the British reality TV show Love Island, is teaming up with online casino operator PlayOJO to launch the "Safe Bets" campaign. This new consumer education campaign about gambling will take a decidedly new approach, resembling terms and methods that you might expect to hear in a sex-education class. The campaign is meant to help tackle the serious task of encouraging safe gambling but will do so in an unusual way that is sure to make a big impact on the online gambling market.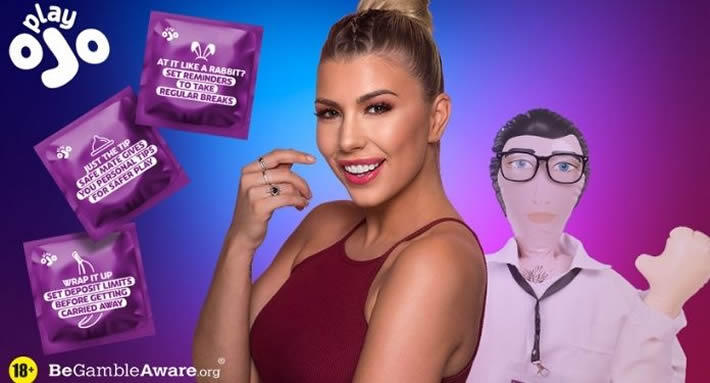 As part of this new campaign, PlayOJO has released a variety of branded condoms that take full advantage of sexual innuendos to get the safe gambling message out there in a "fun and engaging way." The condoms come in packages bearing the PlayOJO logo accompanied by phrases such as, "Wrap it up. Set deposit limits before getting carried away," and, "At it like a rabbit? Set reminders to take regular breaks."
Meant to be a humorous way to talk about a serious subject, the campaign highlights the similarities between gambling and sex. The main point being that both activities can be quite fun but protection and safety should always be a part of the plan.
Speaking about the campaign, Bowen said, "When it comes to practising safer gambling, it could be considered very similar to practising safe sex and we've worked together to create a tongue in cheek, fun video that educates people to gamble responsibly and is done in a way that everyone can relate to."
Peter Bennett, PlayOJO's Head of Marketing, also gave his thoughts on the campaign, stating, "Our business is built upon the principles of fairness and transparency, but we are also playful and fun. We are committed to doing what we can to provide people with the information they need to help identify potential problem behaviours and offer access to those in need of help, but we wanted to do this in an offbeat way that reflects our brand and hopefully will make people smile whilst also getting an important message across.
"PlayOJO is a safe place for people to have fun and gamble responsibly, so we are delighted to be working with Olivia to help raise awareness of this critical issue."