Looking for more information about online casinos that accept Zelle deposits? In this article we will go over the key points of this convenient banking method that you can use at instant withdrawal casinos in USA.
Zelle is an American money transfer system created to make it easier for consumers to make direct payments to and from their bank accounts to both businesses and other private consumers. Unlike third-party payment systems such as PayPal, Zelle works natively within the US banking system. It allows users to transfer money right from their online banking system or through the Zelle mobile app.
Please note that zelle can be used as a deposit method but is not available for withdrawals. To request a cash out you can go for ACH, bank wires, checks, Person 2 Person, Rapid Transfer or cryptocurrencies.
In this article, we will take a look at how the Zelle payment system works as well as the advantages and disadvantages it has for casino players. By the time you reach the end of this page, you should have a good understanding of how the Zelle payment system works and whether or not it might be a convenient way for you to conduct your own casino banking transactions.
⭐ Best Zelle Casinos USA for 2023
1

Best Casino:

OVERALL

Available Countries

Accepts players from United States

Withdrawal Speed

E-wallets: N/A.

Crypto: 24hs.

Credit Cards: N/A.

Wire: 5-10 days.

Cashout Limits

$10 – $9,500 every 15 min.

Available Payment Methods

Features

BTC: Payouts in 24hs.

Cashable bonuses.

Poker, live dealer, casino.

BTC: no cashout limits.

Hot Drop Jackpots.

2

Best:

BONUS HUNTERS

Bonus Offer

350% up to $2,500

Available Countries

Accepts players from United States

3

Best:

BTC FAST PAYOUTS

Available Countries

Accepts players from United States

4

Available Countries

Accepts players from United States
❓ What Is Zelle?
Zelle is a person-to-person (or business) money transfer system that allows users to transfer money directly to and from each other's bank accounts. Unlike most other online payment processing services, Zelle is NOT a wallet system. Users have a Zelle profile, not an account. All money is transferred directly to and from existing bank accounts. There is no separate Zelle account to be maintained.
It's also worth noting that the Zelle system will only transfer money from one bank account to another. The system is not meant to be used as a point of sale payment method. Again, unlike most other online payment systems, Zelle does not offer extras such as debit cards, payment plans, or service subscriptions. It is meant to be used by individuals who simply wish to transfer money directly to someone they already know and trust.
Instant Money Transfers with Zelle
To send money to someone, a user just needs to know the recipient's email address or phone number. If the recipient does not already have a Zelle profile set up, he will receive an email with instructions for creating a Zelle profile and receiving the money that has been sent. The system also allows users to send a request for money to another user.
The majority of consumers in the United States will have direct access to Zelle through their existing bank's online banking website or mobile app. For those that have accounts at one of the few banks that don't offer Zelle to their customers, it is still possible to use the system to conduct financial transactions by downloading and installing the Zelle mobile app.
✅ How To Set Up A Zelle Account
Getting started with Zelle may vary slightly from one bank to another, but the process will always be quick and easy. Since the service works directly with your bank, there's no need to fill out long forms. You don't have to create an actual Zelle account and you won't have to put in bank account details or card numbers or anything of the sort. You will more or less be enabling Zelle payments through your bank account and associating your email address and phone number with your Zelle profile.
That's really all there is to it. You will then be able to transfer money directly to and from whichever account you associated with your profile. You can use Zelle on multiple bank accounts but each account will require a unique email address and phone number.
🏧 Banking at Online Casinos that Accept Zelle in USA
Using Zelle to make casino deposits is a very straightforward process. All you'll need to do is select the Zelle payment method from your favorite casino's cashier or banking page and follow the instructions.
When you make a deposit, it should be credited to the casino and made available to you within moments, if not instantly.
On the other hand, you won't be able to request withdrawals using this method, because it only works one way when we are talking about gambling transactions in the U.S and offshore casinos. To request a cash out, you can opt for bank wires, checks, Person 2 Person, Rapid Transfer or cryptocurrencies.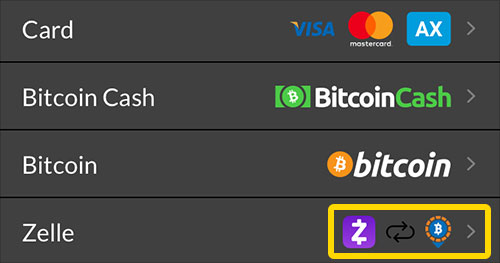 🟢 Advantages Of Using Zelle to Fund your Casino Account
The main advantage of using Zelle to fund an online casino account is pure convenience. If you live in the United States and have a US bank account, you almost certainly already have access to Zelle. You won't have to sign up for any kind of account or worry about funding an e-wallet. You simply log into your online banking service, look for the Zelle payment option, and initiate your transaction.
Zelle's second major advantage is speed. It has been possible for quite some time for bank customers to transfer money from one account to another. On top of that, there were often significant fees for both sender and recipient. Once your Zelle profile is created, everything happens within moments, and without extra fees.
Zelle also adds a layer of privacy that previously didn't exist when making direct bank transfers. By design, traditional bank transfers require both parties to disclose bank account numbers and other sensitive personal and financial information. Zelle has done away with this invasive and tedious part of the process. By allowing users to specify recipients using a simple email address or telephone number, they've made the process of initiating a transaction incredibly simple, and exchanging account information is no longer necessary.
🔴 Disadvantages Of Zelle Casinos
There really aren't many drawbacks to using Zelle to fund online casino accounts. As long as you have the money you want to transfer in your bank account, everything generally happens quickly and painlessly.
The main disadvantage of this US friendly casino banking method is that is not possible to conduct withdrawals with it.
A disadvantage to some is going to be the fact that there are generally transaction limits involved when using Zelle. You'll need to check with your bank to find out what your specific limits are. In most cases, though, limits will be high enough that they probably won't affect the majority of casino players.
Zelle does not offer any type of payment protection. As we mentioned above, it is not designed to be a point of sale payment system. It is a money transfer system. You should consider a Zelle transaction to be an exchange of cash. Once you send your money, it is gone and the transaction can not be canceled, disputed, or charged back. It is up to the user to judge whether or not the recipient is trustworthy for the purposes of the transaction.
Finally, Zelle is only available to players in the United States.
💡 How to Buy Bitcoin With Zelle
If you have trouble finding a casino that accepts Zelle directly for deposits and withdrawals, buying and using Bitcoin could be a convenient solution. If the casino where you want to play accepts Bitcoin (or other cryptocurrencies), you may be able to buy Bitcoin with Zelle, and then use that to conduct your casino banking transactions.
There are three major crypto exchanges that will allow you to buy and sell Bitcoin with Zelle. They are Binance, Paxful, and LocalBitcoins. Binance is a full-service crypto exchange, whereas Paxful and LocalBitcoins are more of a matching service to facilitate private person to person trades.
Through Binance
Binance is a public cryptocurrency exchange that gives traders the ability to buy crypto coins in more or less the same way stockbrokers allow traders to buy and sell stocks. In other words, you can buy and sell Bitcoin and other cryptocurrencies directly from Binance. You don't need to find another individual to take the other side of your buy or sell transaction. You can simply place your order and it will be carried out within a few moments. Once you have purchased your Bitcoin, you can then use it for whatever you like.
Note: You should be sure to read all of the terms and conditions for any crypto exchange. Some large exchanges will force new members to hold their cryptocurrencies in their exchange wallets for a certain period of time before they can withdraw in order to mitigate fraudulent transactions. You may have to wait anywhere from a few days to a couple of weeks to withdraw your first crypto purchase.
Through LocalBitcoins or Paxful
Both LocalBitcoins and Paxful facilitate cryptocurrency trades by matching individuals who want to buy with others who want to sell. The platforms will allow you to trade with sellers located all over the world.
The sites use an escrow system so that buyers are assured that the Bitcoin they are purchasing is real and waiting to be released to them upon payment. Transactions are generally carried out quickly for a small fee.
Potential buyers and sellers on these sites are rated by other traders, making it easy to find trade partners with both experience and a good reputation. Because all trades on these platforms are conducted between private individuals, transfer times can not be guaranteed. In the vast majority of cases, your transaction will be executed within a few minutes, but it is possible that you may have to wait a few hours if you happen to pair up with a slow-moving trader.
💡 How To Use Zelle With Online Gambling Vouchers
While not as popular as Bitcoin, you will also find some sites that accept gambling vouchers that can be purchased with Zelle.
These are private player to player transactions that are usually facilitated by individual sites or a small group of sites. Vouchers are used to allow players to buy and sell casino account balances. The vouchers can be paid for with Zelle or just about any other payment method that another player might be willing to accept.
To get started using Zelle and gambling vouchers, you should click on the voucher payment method on the cashier page of the casino where you'd like to play. You should find full instructions there that will allow you to set up an account and begin using the casino voucher system within a few minutes.
💡 How To Use Zelle With MatchPay
MatchPay is another player to player payment system that helps match players wishing to sell their casino balance with players who want to buy. The MatchPay system is currently available at the Ignition/Bodog/Bovada family of online casinos and poker sites. MatchPay is, however, a separate, third-party company. So, it is possible that we will see more casinos using the MatchPay system in the future.
Once you've created a MatchPay account, you'll be able to buy casino balances from other players, which is the same as making a deposit, or sell your own balance, which is the same as making a withdrawal. By conducting trades with other players who accept Zelle, you'll basically be able to make instant transfers to and from your casino account right from your own bank account.
📑 Company Information
Zelle is owned by Early Warning Services, which is a private financial service company owned by a group of banks consisting of Bank of America, BB&T, Capital One, JPMorgan Chase, PNC Bank, U.S. Bank, and Wells Fargo. Most US consumers—including those who have accounts at banks other than those listed—can use Zelle from within their bank's mobile app or online banking website.
The service was originally created under the name clearXchange in April 2011. clearXchange operated under the ownership of Bank of America, JPMorgan Chase, and Wells Fargo. Capital One and US Bank joined later as additional partners and the service was eventually sold to Early Warning Services in January of 2016. In December of 2017, clearXchange was rebranded as Zelle. Existing users were told that their clearXchange profiles would be deactivated and that they'd need to create new profiles in the Zelle system to continue using the service.
Over the last several years, Zelle has become an increasingly prominent method of making payments and transferring money between both consumers and businesses. Much of the service's popularity has to do with the convenience of having it built into already familiar banking apps and websites and the fact that users pay no fees for their transactions.
❓ FAQs
Is it safe to use Zelle to fund an online casino account?

Are there any fees for using Zelle?

Will I be able to claim casino bonus offers when I deposit using Zelle?

Are there any type of deposit or withdrawal limits when using Zelle?