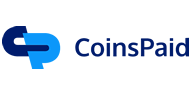 Do you like to gamble with Bitcoin and other altcoins? If so, you should check Coinspaid Casinos. I'm quite sure you will be interested in what this service has to offer!
The year 2018 saw the launch of yet another innovative payment solution tailored to the needs of the online gambling industry. Presented as "crypto processing and wallet you can rely on", CoinsPaid meets the needs of both operators and players.
It links crypto and fiat markets, offering a perfect processing system to companies and an easy-to-use digital currency wallet to their clients. Thanks to its reliability, high security and processing speed, many casinos use this service. Actually, more than 200 online casinos are already using the CoinsPaid processing mechanism and there's no doubt many others will come on board.
Sadly, no U.S online casino offer this service yet.
Top Rated Coinspaid Casinos for 2022
Reputable online casinos with fast withdrawals
CoinsPaid Casinos
As you can imagine, any online casino that accepts CoinsPaid deposits and withdrawals will work with many cryptocurrencies. How many? Well, at the time of writing, Coinspaid stores and process transactions in more than 50 altcoins.
As far as I saw, there are at least 200 Coinspaid casinos, but most of them cater to European and Australian players. No USA gambling sites offer this service yet, but I'm sure they soon will.
All softswiss casinos are able to process crypto transactions, so if find softswiss games in the casino library, you will have access to this solution.
The History of CoinsPaid
CoinsPaid was developed in 2014 by Merkeleon, a company that originated from the reputable gaming software developer SoftSwiss. Merkeleon started operating in 2009 as an auction software provider and over the last 6 years, the team has focused on creating solutions for the cryptocurrency industry.
In 2018, Merkeleon SaaS for crypto exchange with the CoinsPaid gateway as a key component was audited by Kaspersky Lab, a renowned expert in fighting malware and cybercrime, after which CoinsPaid entered the market as stand-alone brand. Operations are conducted through Kindermatica which is registered in one of the most reliable jurisdictions for cryptocurrency businesses – the UK.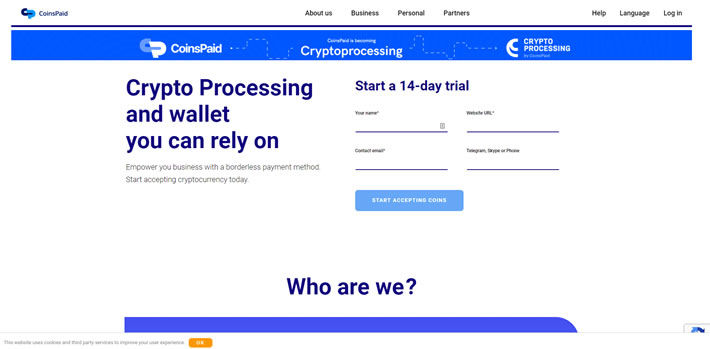 CoinsPaid Casinos: Benefits for Players
Safely Store Cryptocurrency
CoinsPaid Wallet allows users to send, store, exchange and receive digital and traditional currency. They are able to make instant cryptocurrency deposits and withdrawals as well as use their phone's address book to quickly send cash to friends. Crypto fluctuations can be avoided by storing funds in Fiat money. Coinspaid casinos will process your transactions within a couple of hours. No excuse!
More than 50 Altcoins Supported
CoinsPaid supports not only Bitcoin but also numerous altcoins among which Ethereum, Bitcoin Cash, XRP, Tether and Litecoin. Built-in Exchange facilitates convenient management of the user's crypto portfolio and enables them to access the best exchange rates in the market. Clients can easily execute recurring payments and automatically make multiple transfers to multiple addresses with complete peace of mind thanks to Kaspersky-audited crypto technology.
Not Fully Implemented 🙁
Personal accounts for wallet users are still in the testing phase but the product is expected to be released before the end of Q1 2020. It's currently possible to join the waiting list, thus ensuring you'll be among the first players able to make free, instant cryptocurrency deposits at top online casinos and receive the equivalent Fiat amount into your account, as well as withdraw crypto to another wallet or Fiat money to a bank card, Skrill or Neteller.
CoinsPaid promises to be the fastest payment option out there with the user's account credited within 1 second of the payment.
Benefits for Operators
More than 200 Online Casinos Use it!
Casino operators benefit thanks to a quick API, stable cryptocurrency integration, competitive pricing, White Label back office and 24/7 tech support. That should explain quick adoption as well as the response of reputable partners such as Gunsbet.
"We receive reliable technical support and product advancement from the team. The payment gateway has great capacity and handy operation panel", says the Casino's marketing manager. Feedback from other clients is just as positive. They believe CoinsPaid "will make a genuine change in the blockchain industry by making payment processing accessible for all" and report that "CoinsPaid is loved by our players for its simplicity" which they deem particularly important for those that are new to digital currencies.
Operators Have Access to a Trial Account
Potential new partners are offered to open a trial account which will allow them to familiarize with the dashboard and test all available tools. Security is proven by external audit, transactions are confirmed instantly and crypto to Fiat exchange happens on-the-fly. Integration is free but there are transaction fees (deposit, withdrawal and exchange) which depend on the operator's business model as well as required options.
Crosschain Recovery Policy
The Crosschain recovery policy applies to deposits sent to another coin/network, such as sending BTC to a BCC address or ETH to an ETC address. The service provider will try to recover deposits of over $5,000 within 7 days and charge the client a recovery fee of 0.1 BTC.
Supported Currencies and Payment Methods
The company currently supports over 50 altcoins (BTC, BCH, ETH, LTC, ETC, XRP, ZEC, NEO, DOGE, DASH, USDT…) and ERC20 tokens as well as direct bank wire for EUR deposits and withdrawals. There's a plan to add other payment methods, in particular those widely used in the online gaming world – credit cards and popular eWallets.
The list of supported Fiat currencies includes EUR, USD, CAD, SEK, AUD, NOK, CHF, RUB, CNY, JPY, NZD, MXN, ARS, BRL, GBP, INR, KRW, THB, MYR, PEN, CLP, KZT and UAH.
Convert FIAT Currency to Altcoins & vice versa
Altcoins can be converted to BTC manually by end users and via the API by businesses. The built-in instant exchange function allows merchants to immediately exchange cryptocurrency received from the customer into the chosen Fiat currency. Customer funds are held in an (offline) cold wallet and thus safe from cyber-attacks while hot wallet stores funds needed for automated operations like multiple payments.
Crypto Media Praises CoinsPaid
Cryptimi has dubbed CoinsPaid "a rising star in payment solutions for iGaming" owing to high transfer speed, negligible transaction fees, API which ensures smooth functionality, best-in-class support service available round the clock and ease of integration.
ZyCrypto considers CoinsPaid to be "the ultimate solution for cryptocurrency processing" and believes it can solve main problems currently associated with the use of digital currency, primarily high volatility and complex integration for businesses in terms of the technology and slow adaptation to innovation. It emphasizes that CoinsPaid is "the only platform that managed to prove security with external audits, cover funds from reserves and offer coin compliance as well as a loyalty program", the fact it's one of few to cover over 50 different digital currencies and charge commission which goes as low as less than 1%. ZyCrypto doesn't forget to mention the 24/7 customer support, immediate transaction confirmation and automated KYC system.