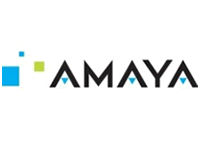 Looking for more information about AMAYA casinos? Look no further! On this article we talk about special features of most popular AMAYA slots and other casino games, as well as company information and certifications.
AMAYA Gaming was founded in 2001 and has had a solid track record of success since then. The company was relatively unknown, however, before it took its place on the world stage when it agreed to buy the parent company of PokerStars and Full Tilt Poker in June of 2014. With this move, AMAYA became one of the largest, if not the single biggest online gambling operator in the world.
AMAYA is behind some of the biggest names in online gambling. The company is a leader in real money online gaming and interactive entertainment. It is consistently associated with developing some of the most technologically advanced gaming services and online gambling products.
The company is, perhaps, best known as the operator of the world's largest online poker site, PokerStars. The company also owns several other brands including StarDraft, PokerStars Casino, the PokerStars Live Poker Tour, BetStars, BetEasy, Full Tilt, and Sky Betting & Gaming. These brands are estimated to collectively serve more than 105 million customers around the globe.
Having recently changed their name and rebranding as The Stars Group Incorporated, AMAYA's main focus is operating, developing, and acquiring cutting edge, interactive technology assets.
A Record-Setting Poker Presence
AMAYA Gaming has built an astonishing reputation around the PokerStars brand. The software suite that makes up PokerStars encompasses gaming clients, a cashier system, customer support tools, reporting systems, administration functions, and a hugely scalable server back end.
The PokerStars brand is known to have a player base of well over 470,000 players. Their games have seen more than 60,000 observers watching a single table. Their reputation for excellence is well deserved with an uptime of 99.98% and more than 137 billion poker hands dealt since the site's inception.
AMAYA Real Money Casino Slot Machines
There are plenty of slot machines to choose from if you're looking for offerings from the brand. The company has special rights to DC Comics characters such as the Justice League, Superman, Wonder Woman, Green Lantern, Flash, and Batman. AMAYA also has licensed games based on Conan the Barbarian as well as Call of Duty.
Most of Maya's slot machines are either three reels or five reels and the number of pay lines ranges from 1 to 100. You will also find ways to win payout slots as well as cluster pay games.
As you would expect from such a big name, their video slot machine catalogue contains loads of innovative bonus features as well as a few progressive jackpots that will make your head spin right along with the reels.
AMAYA Highest RTP Slots & Latest Releases
| | |
| --- | --- |
| Best Payout Slots | Latest Releases |
| Aladdin's Lamp: 98% | Dragon Sword – March. 2017. |
| Vampires vs Werevolves: 98% | Dragon Parade – March. 2017. |
| Taxi: 97% | Vampires vs Werewolves – Jan. 2017 |
| Thundering Zeus: 97% | – |
| Bullseye Bucks: 96.63% | – |
AMAYA Gaming Casino Game Types
Along with their extensive offering of video slots, AMAYA also offers a full selection of traditional casino games along with sports betting. Players can expect to find all of their favourite games at such sites as BetStars.
Casino game offerings include many different variations of blackjack, roulette, poker, baccarat, craps, and more.
The company's drive for both quality and quantity is unmatched in the industry. No matter what type of games you like to play, from poker to slots, to casino table games and beyond, you can be sure that when you're playing at an AMAYA venue you're getting the very best that's available.
AMAYA's Most Popular Casino Games
The selection of games offered by AMAYA makes it impossible to single out any game or even put together a small list of the most popular. What we can tell you, though, is that no matter what kind of games you like to play, you won't be disappointed when you're playing at an AMAYA casino. The best thing we can recommend is that you check out one of their casinos for yourself. We are absolutely certain that you won't be disappointed.
Licensing
AMAYA's subsidiaries have been approved and licensed to provide services and products in many jurisdictions around the world. Pokerstars, in particular, is the world's most licensed online gambling brand, with licenses and other forms of operating approvals in at least 16 different jurisdictions.
AMAYA Gaming, or its subsidiaries, are licensed to operate in the United Kingdom, Spain, Estonia, Belgium, Greece, Romania, Isle of man, and the state of New Jersey in the United States.
AMAYA Casinos: Conclusion
There's little we can say about AMAYA Gaming that hasn't already been said. The company is licensed to operate by just about every jurisdiction in the world that offers online gambling licenses. They have a stellar track record for security, gaming fairness, and fast and hassle-free payouts. The company is behind some of the largest online poker tournaments ever created as well as some of the largest gambling payouts ever issued.
Whether you're there to play poker, slots or other casino games, you'll always get fair and legitimate results when you're playing at an AMAYA venue. The company has become the standard that all other online gambling operators are measured against. If you want to gamble online, you'll be hard-pressed to find anything better than what AMAYA has to offer.